We live in remarkable times. When you market your brand-new action RPG with citations such as "no phones involved", you know that some serious damage has been done before. Pagan Online isn't shy when it comes to tooting its own horn: "WASD controls", they say; "PC game", the official website proudly boasts. Could they be taking a stab at Blizzard and NetEase's Diablo Immortal? Surely that's just a coincidence, right?
But this is done in a lighthearted comedic manner, one that severely contrasts with the game itself. Pagan Online is a somber, grim and desperate hack-and-slash game inspired by Slavic mythology. It recently entered Early Access and unlike most games published by the World of Tanks creator Wargaming, this isn't free-to-play; Pagan Online is a premium game and one with enough virtues to stand on its own.
It could, however, be free-to-play if Serbian developer Mad Head Games just so wished. Pagan Online has all the vital elements to make it work as such: character skins, pets, inventory space and unlockable characters. Thankfully, this can all be achieved through in-game currency and there is no cash shop in sight. Microtransactions should be outlawed in full-priced games. There, I said it.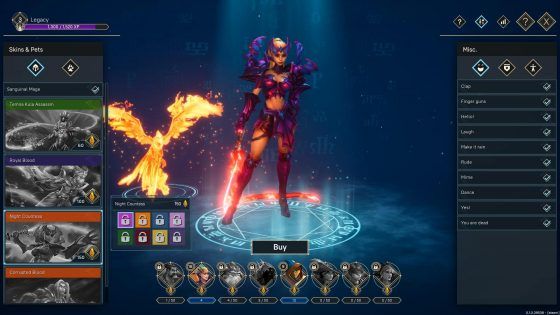 Whip and Slash
If Indiana Jones and Harley Quinn had a baby girl, her name would be Anya. She is one of the three initial characters for you to pick in Pagan Online and I have no doubts that she will be the favorite of most gamers. Her extraordinary whip and blood magic abilities are just too tempting to ignore, turning her into the perfect killing machine for your first hours in this hack-and-slash game.
But don't get too comfortable with Anya, as Pagan Online features an account-wide Legacy system where your experience level is the sum of each one of your heroes' experience. By unlocking more heroes (eight in total as of right now) and progressing with each one you add to your shared experience level, ultimately reaching bigger challenges and better rewards.
This progression system isn't necessarily new, but it is seldom used – Marvel Heroes is one of the games that uses a similar approach. In Pagan Online, some missions reward you with hero shards. You must get 50 shards to unlock each additional hero, but this comes with a twist that you may love or hate – shards are specific to a hero and apparently RNG-based, which means that you can spend a long time without getting the shards that you desperately seek.
Some of you will surely find this approach interesting, extra challenging and more rewarding, while others will prefer the traditional system where you simply choose a different hero and level up accordingly. I can find positives in both methods and I don't mind a good grind, but no matter your preference, it's strongly advised to give your main character a good run. Then, when you have a decent amount of loot for your main and for the other heroes – your stash is shared as well – you can try a secondary hero (Arcane Priest Lukian was my choice… I mean, my prize in the raffle). Equip him or her with good gear and after a mission or two you should find that your new hero is now level ten or close. Not bad for 15 minutes of hacking and slashing, don't you think?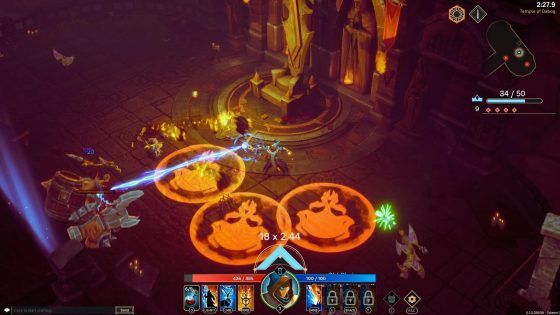 Overall, I didn't mind this approach and don't see it as overly punishing, but I understand if you prefer your heroes available right from the start. And as for those extra shards that you get, they are used to unlock additional colors and cool skins, so it doesn't go to waste.
Shards are earned by completing Assassination assignments. However, to enter these you need to acquire key fragments by playing other missions that vary in their requirements – you may be tasked with surviving waves of enemies, defend some object from invading hordes or destroying all enemies in an area. Progression is invariably tied to these different game modes, so you must regularly complete them, along with daily and weekly missions. Hunts are goals that you set for yourself to earn some extra gold – kill 20 spiders, collect 50 zombie eyes (yuck!) and other achievements of the sort.
I really, really hope that Wargaming isn't doing this to add a hero selling system somewhere down the line. As a core mechanic it may not be suited to everyone's tastes, but Pagan Online has a lot to offer, so I can see it being great value for money if you put the hours into it; but as soon as you can buy your heroes (knock on wood), you must kill the entry price for good or you'll get bashed by your Early Access supporters. And despite my poor knowledge of Slavic myths, in no scenario whatsoever you could unlock a hero with a swipe of the credit card.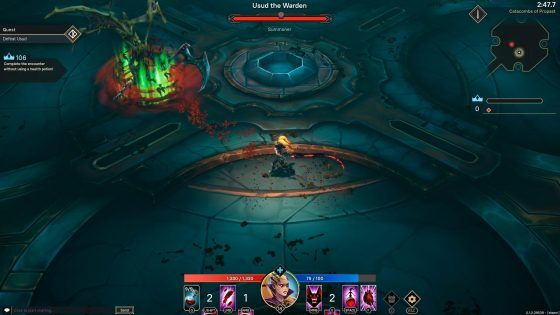 To WASD Or Not To WASD
Pagan Online's WASD controls aren't exactly a common practice when it comes to action RPGs, where the tried-and-tested click-to-move method is universally accepted – the upcoming Torchlight Frontiers also goes for a similar mouse-driven control style.
But Pagan Online benefits from this decision as it brings a more responsive and thrilling feel to the gameplay, with superior dodging and aiming. Gone are the mistakes where you attack an enemy when you just want to move; it may feel a little unusual at first, but you'll quickly get the hang of it and enjoy the spotless control that you have over your actions.
The core of Pagan Online is standard fare, with an isometric perspective and dungeons that are essentially made of corridors connecting larger areas where a procedurally generated battle takes place. I'm not too keen on the way that the enemies appear out of thin air, sometimes surrounding you with no chance to escape – using Torchlight Frontiers again as comparison, foes are clearly visible or approach you from easily identifiable spawn points. Pagan Online is an enemy spawn fest and you'd better get used to it as soon as you can.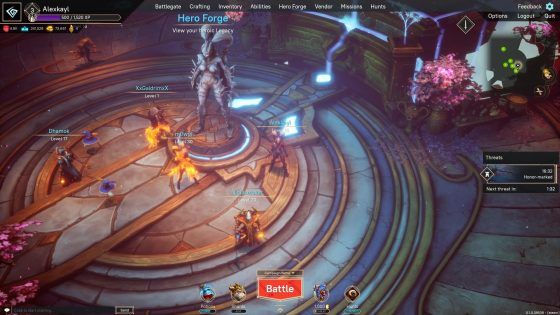 Pagan Online has often been introduced as an action RPG inspired by MOBA mechanics, but don't expect any sort of ground-breaking fusion here. Your hero has a fixed set of abilities that you unlock as you level up and upgrade with Potency points, offering the fast-paced and widespread combat that you'll appreciate the most as you discover and experiment with new heroes. But Pagan Online remains a hack and slash for Diablo fans, and not the kind of game that I would recommend for those who love League of Legends to death.
The Pantheon is the hub area where your heroes get some respite before heading into the next challenge. It is where you choose your next character, upgrade your abilities and craft your epic weapons of doom. Crafting plays a huge role in Pagan Online. During your adventures you will pick every sort of items, with recipes playing a vital role in gear upgrades. These come in different tiers and are tied to certain item levels, in addition to requiring the consumption of specific materials. Apart from collecting these materials in the battlefield you can also get them from the occasional card pack. Crafting increases your skills and Might score, which translates into the overall power of your hero and a great way to properly assess your chances when it comes to Missions and Assassinations.
Pagan Online is a PvE experience with a vast campaign (allegedly 50 hours) and three difficulty levels. The Early Access build doesn't include co-op gameplay which is said to be a huge part of the game and I can see that happening. Competitive activities are another one of the teased aspects, although Mad Head Games has expressed its intention to steer clear of PvP, so this could mean anything – leaderboards are already present in the game, but it could be some feature in a similar style.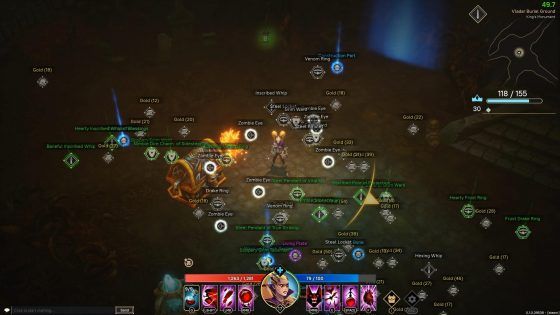 I'll admit that I didn't pay much attention to the story, as I was more interested in checking out the game's mechanics and trying to turn Anya into a mean, lean whipping machine, something that remains a work in progress. But what I could grasp of the lore seemed overly serious and often despairing, with cavernous voice acting that suits the dark undertones. It's a deliberate choice, obviously, as no self-respected hack-and-slash would place you in a world full of unicorns, rainbows and fluffy clouds. But it's up to you to decide if it is worth listening to.
I, for one, really couldn't care less, at least for the purpose of this preview. I liked Pagan Online for what it is, and that is a fast-paced, enjoyable and solid action RPG. For an Early Access title, it already feels immensely polished, without any blatant bugs or server issues, although I was slightly annoyed by the server lag when selling items. Pagan Online is a blast to play and if you can get your head around the way that the character unlocking system works, it offers plenty of bang for your buck. It's a game where you can play for hours on end or just a few short sessions for extra loot, and co-op will surely take the game to an entirely different level. Not too shabby for a studio that built its foundation developing hidden object games.
Related:
Action RPG
,
Hack-and-Slash
,
Pagan Online
,
Preview
,
Steam Early Access
,
Wargaming