We checked in on Versus Evil's new lineup at this year's PAX East to see how things are progressing for the studio. It's been some time since our last visit with them at Gamescom 2016, and I took the opportunity to get a bit of time with their mobile game Like a Boss and their award-winning title At Sundown.
Like A Boss
Like A Boss is a primarily single-player mobile title that lets players take on the role of a raid boss. It's your job to survive waves of ruthless heroes as they try to take you and your minions down and steal your stuff. Missions will involve facing hordes of heroes with varying strength as you try to protect locations and targets, or as you simply try to survive a raid.
There are three classes – Ranged, Mage and Warrior – and three different races to create your own unique raid boss. Progression in Like A Boss comes by not only of leveling up your boss but by earning fragments to complete gear recipes. Once a recipe is learned, it's yours. In addition, crafted items can be further refined by slotting in different materials, which will raise certain stats based on what item is slotted.
The game will also include a multiplayer element through Guild Missions, which are missions that require multiple bosses to take out a powerful quest giver that constantly sends heroes to your location. You can recruit player-created bosses to your AI team and earn rewards.
Like a Boss will release on Apple and Android devices sometime in the next few months.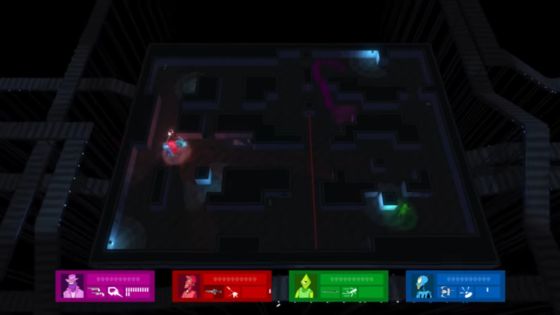 At Sundown
At Sundown is a top-down multiplayer arena shooter with a unique twist. Each match is played in complete darkness, with the only way to see yourself and your opponents through careful use of whatever light sources are available and your own sense.
I had a couple of rounds with the game at the booth and found myself to be pretty awful at it, as I am with most shooters. Still, it was a fun time as I tried to guess where targets were without giving away too much information about my position. Firing a weapon lights you up for a brief moment, meaning that you could draw people to you inadvertently.
The game started life as a school project for students of USC who were studying game design. Their professor was so taken with the concept of At Sundown that it was submitted to the 2016 BAFTAs, where it won the One to Watch award. With the backing of Versus Evil, the student project is growing into a full-fledged title with online and local multiplayer support, more maps, and more weapons.
At Sundown is going to release globally during the fourth quarter of 2017, though a specific date isn't tied down just yet. After all, the USC students need to finish college!
Though my time at the Versus Evil booth was a bit brief, I was struck by the imagination behind the titles I saw and played. At Sundown has the potential to become a true sleeper hit with its clever mixture of stealth and shooter gameplay, and Like a Boss could become another solid piece of mobile gaming that captures lots of attention.
Related:
At Sundown
,
Console
,
Like a Boss
,
mobile gaming
,
Online Shooter
,
PAX East 2017
,
Versus Evil