As we mentioned earlier this week, Blizzard launched a charity event in honor of Breast Cancer Research Foundation (BCRF.org). Players can pick up the Pink Mercy skin, and all proceeds go to charity. Blizzard also released a Pink Mercy t-shirt, and there are tons of sprays to unlock by participating in the event.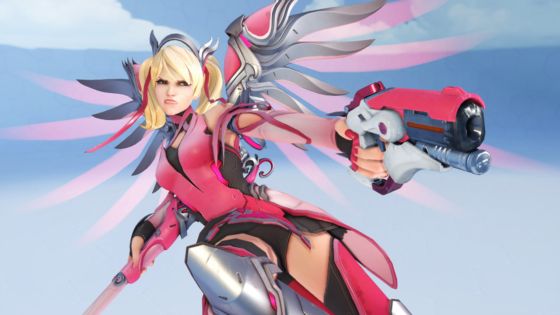 In this Play of the Fortnight, we're going to talk about the Overwatch BCRF charity event, and how successful it has been so far.
Charity Streamers Raise Awareness and Donations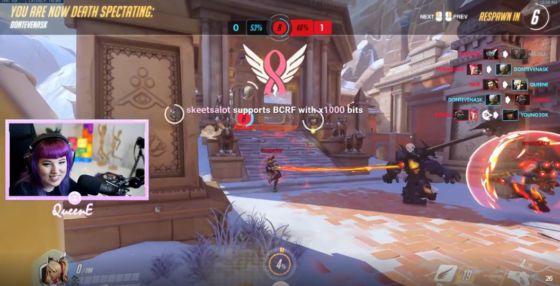 The first charity streamer for this event was Overwatch streamer QueenE. She's a ranked player with a peak of 4211 (Grandmaster). QueenE is one of the streamers players can watch to earn their in-game sprays and player icon. She kicked off the stream on day one of the event, on Tuesday, May 8th, and streamed for eight hours raising funds for BCRF.
During this time, she went from averaging in the hundreds of viewers to over a whopping 50,000. Her goal was to raise around $500 for BCRF during her charity stream, but in total, donations and bits (which viewers on Twitch use to "cheer" for a streamer, giving them one US cent per bit) totaled over $20,000. This is a massive contribution from one streamer of many (and of course all of the community members who watched and chose to cheer or donate).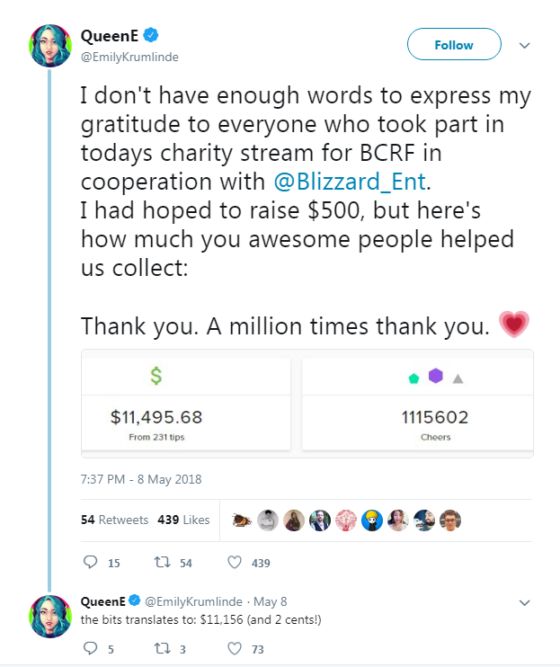 There's a running total on Reddit of how much streamers have raised. It's being updated as quickly as possible, so if you're interested, check out the thread by Redditor binhvinhmai.
Twitch is a Great Platform for Charity Engagement
Twitch is an excellent platform to expose online communities to charities. Streamers are incredibly effective influencers, and can spread a message to a wide audience. Bits are also a great engagement tool, as viewers can earn them for free from watching ads or completing surveys, and cheer small amounts that all add up to a large donation at the end of a charity stream.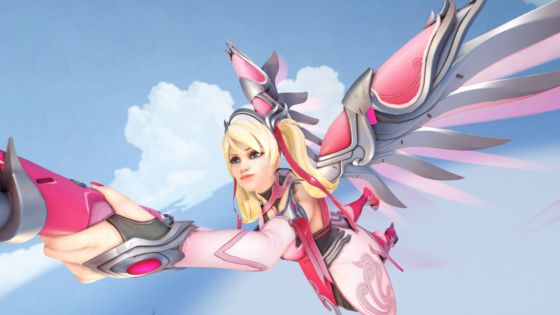 Blizzard, also, has taken a step towards exposing its huge community to an important charity. There will always be some people who will be reluctant to donate to a charity. However, a beautiful skin for a popular hero, plus exclusive, time-limited merchandise, goes a long way towards incentivizing charitable donations.
One Redditor, Acoustibot, picked up the skin for $18.99 (CAD). They admitted, "I can't say with 100% certainty that I would have donated $18.99 if there was a 'Donate $18.99 to Charity' button without the Mercy skin as an incentive." And this isn't something people should feel bad about. Lots of people make their own donations to charities of their choice. The cost of the skin might have seemed high for "just" a charity donation, but with a memorable in-game item to go with it, it can justify the cost.
The Overwatch Community's Thoughts
It's not all been positive, of course. There are many players asking why BCRF was the specific charity chosen. This is a bit of a controversial topic, as some people feel that breast cancer gets an undue amount of attention from companies raising money for charity. This has generated some really positive discussions, however. The community has begun asking if there's any way for the players to influence what charities are chosen, showing that they would be open to having an event like this happen in the future.
We would love to see Blizzard do an annual charity event. It's probably not something they would do regularly, especially since they've pledged to donate a minimum of $250,000 to BCRF themselves. However, this event has proven that players are open to it, and there's been an amazing amount of money raised already.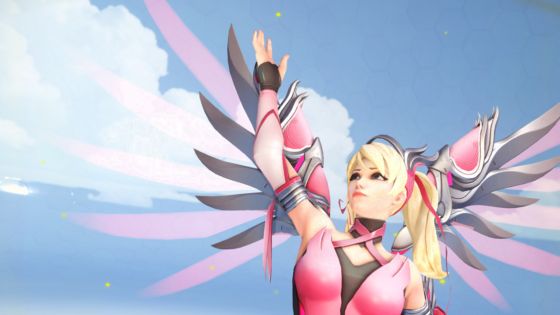 Some players did think the skin was too expensive, regardless of the fact that the funds went to charity. One common concern raised was that if the skin was a little cheaper, more players would end up purchasing it, meaning more money would go to the good cause in the end. There's definitely something to be said about price points in games like this. With microtransactions in general, lower prices often mean more people buying items. It'll be interesting to see whether Blizzard changes this in the future. They'll of course have to balance that with the community's expectations. If the next charity skin is cheaper, will players ask if the charity is less valued?
How to Take Part and Unlock the Sprays
If you want to take part in the event, it's really easy. You can buy the Pink Mercy skin for you or your friends (you must be on each other's friends lists for seven days) any time between now and May 21st. You can also buy the exclusive Pink Mercy t-shirt on the Blizzard gear store between May 5th and May 21st. All proceeds from either of these purchases goes to BCRF.

There are several sprays and two player icons to unlock during the event as well. The first icon you can get by simply logging in before May 21st. There are then three additional tiers. The first tier, containing one spray, is unlocked after watching two cumulative hours of one of the participating streamers, at any time that they are streaming Overwatch. The next is after four, and includes the other player icon and a spray. The final tier includes the last two sprays, and is unlocked after watching six cumulative hours of any of the charity streamers.
Make sure you connect your Twitch account to your Blizzard account before watching the streamers. You can do so on your Twitch connections page. You can find a list of the participating streamers on Blizzard's blog post.
Closing Thoughts
We're really excited to see Blizzard doing such an engaging event for an amazing charity. It's even more exciting that they've been so successful already, and that the community seems receptive to doing similar events in the future. Pink Mercy is also absolutely gorgeous, so that's an added bonus.
The event has opened up some really constructive conversations in the community as well. Some players will always be unhappy with these kinds of events. For the most part, however, players have given suggestions on areas for Blizzard to improve. The fact that the community has opened discussions about what charities we could all support going forward is really great.
What other charities would you like to see Blizzard do events for in the future? Let us know in the comments, and feel free to suggest a skin that might go along with it!
Related:
Blizzard Entertainment
,
Charity
,
Column
,
Event (In Game)
,
First Person Shooter
,
FPS
,
Overwatch
,
Play of the Fortnight
,
Shooter
,
Streaming
,
Twitch