It's that time of the year again and an Overwatch Halloween event is imminent. With spooky new skins, a return of last year's items, and possibly a repeat of Junkenstein's Revenge, it's definitely something we're looking forward to. But what could Halloween Terror 2017 look like?
In this Play of the Fortnight, we're doing some speculation about what we can expect, and what new skins we'd love to see.
Halloween Terror 2017 Start Date
Last year's Overwatch Halloween even began on October 11th. With that date looming closer, we could possibly see the Halloween Terror 2017 start date in the next two weeks. Since Blizzard usually patches on Tuesdays, Tuesday, October 10th looks like a possibility. Last year, it ran through to November 3rd.
With Halloween itself falling on Tuesday 31st, we'll probably have this year's event last until around November 7th. However, with that in mind, Blizzard may choose to start the event a week later to keep with their three-week event tradition. We can expect the event to begin at the latest by Tuesday, October 17th.
Returning Halloween Terror Content
Blizzard set the bar for returning events when they released the Summer Games 2017. We know from that event that old content will most likely be available at a reduced credit cost, as well as potentially dropped in Loot Boxes. Again, the reduction in duplicates comes in very handy here. If you already unlocked everything from last year, you are unlikely to receive repeats and can work on your Halloween Terror 2017 collection instead.
Will Junkenstein's Revenge Be Back?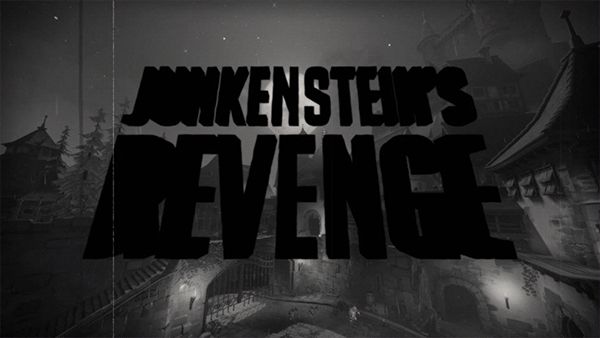 Junkenstein's Revenge was Overwatch's first foray into a fully-fledged PvE brawl. The community really enjoyed it, and we were sad to see it go. However, with Lucioball making its return in the Summer Games event, Junkenstein's Revenge should make its way back into the Arcade. Maybe there'll be a few changes. For example, many members of the community thought that the brawl might take place on Chateau Gaillard this time, as it's the perfect haunted castle location. We will probably still be able to play on Eichenwalde as well, but having two playable maps will give the brawl another breath of life.
It will be interesting to see if Blizzard decides to stick with the original Junkenstein's Revenge hero roster. Last year featured "The Alchemist", "The Archer", "The Gunslinger", and "The Soldier" (Ana, Hanzo, McCree, and Soldier-76 respectively). The enemies were "The Reaper" (Reaper), "Junkenstein's Monster" (Roadhog), "Dr. Junkenstein" (Junkrat), and "The Witch" (Mercy). Maybe the enemies will remain the same, but we'll see some additional heroes making their way onto the defense.
New Halloween Terror 2017 Skins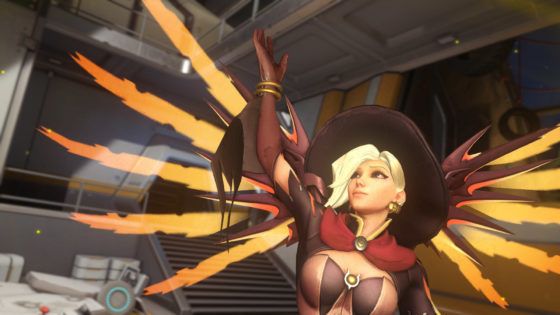 Last year, we saw skins for a lot of heroes. Ana, Bastion, Hanzo, Pharah, Reinhardt, Soldier-76, Symmetra and Zenyatta all got Epic skins. Meanwhile, Junkrat, Mercy, Reaper and Roadhog all received the Legendary skin treatment. It's probably safe to assume we won't see these heroes getting new skins this year, but Mercy did get a repeat skin during the Summer Games event, having one last year and a new one this year. Knowing that, anything is possible.
However, bearing in mind the heroes without Halloween skins, there are a few exciting thoughts from the community. One particularly popular idea was suggested by a few people, including Redditor GreatEscapist: a Cinderella themed D.Va. Affectionately named Cin D. Rella, our favorite Korean esports star would ride around in her pumpkin mech. This suggestion reached over 20,000 upvotes and over 1000 comments on Reddit. It's unlikely to come to pass due to copyright, but it is a lovely idea, and D.Va certainly deserves a skin.
Other popular community suggestions include the outfits we saw in the masquerade comic. This would bring Reaper, Doomfist and Sombra some themed skins, though we're not sure if they fit the Halloween idea Blizzard has gone with before. We are also missing the Torbjorn Viking skin we saw in the same photo that revealed the Mercy skin from last year, so that is always a possibility as well.
Overwatch Halloween Skins We'd Like to See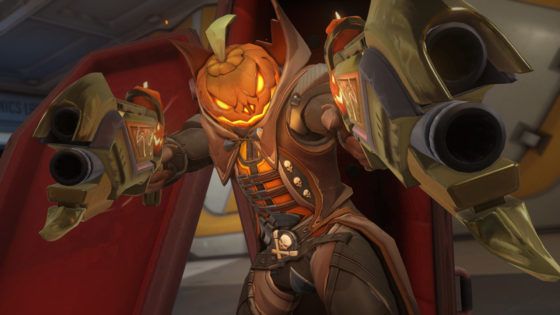 Apart from the ideas above, there are a few skins we'd love to see come to an Overwatch Halloween event. First of all, we would love to see some stereotypical Halloween costumes make an appearance. For example, the popular cat-girl costume could feature, perhaps for Tracer. We could also see a ghost-sheet on one of the heroes, or a skeleton costume. With the recent release of a certain creepy clown-themed movie, maybe Lucio could don a wig and some creepy make-up. These are all costumes we can expect to see people in the real world wearing, and they'd fit well within the Overwatch universe too.
We could also see a vampire bride or corpse bride costume for someone like Widowmaker, or a vampire hunter skin for McCree. The outfits would certainly suit them. Winston could have a Jekyll and Hyde style skin due to the way his ultimate works, or something similar to a werewolf. He's already proven that the yeti skin works well from the Winter event.
Of course, the event wouldn't be complete without a devil-like costume. And we all know who that would go to…(cough, Mei…)
Potential Event Changes
Much like with the Summer Games event, and the Anniversary event, it looks like the Halloween Terror 2017 event will have less new content. We've been seeing less and less new skins for the events. This is both good and bad: good, because we'll have more of a chance of collecting everything, and bad because we'll obviously see fewer fun skins and our favorite heroes might not get one. Either way, Blizzard was bound to scale back the amount of content they released for each event, as having a skin for at least half the hero roster wasn't going to be sustainable forever. This way they can save some ideas for next year's event.
Closing Thoughts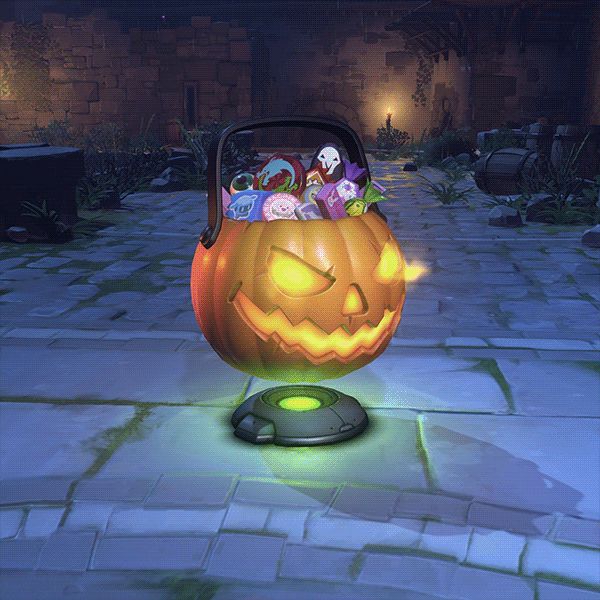 We can expect to see the Overwatch Halloween Terror 2017 event within the next two to three weeks, perhaps even sooner. With it, we'll likely see the return of Junkenstein's Revenge with a few changes, the content from last year available for unlock again (and cheaper!), and some new creepy skins and items to collect. Also, as it's the second repeat event of the year, we'll see how Blizzard is continuing to release repeat events and confirm whether they're planning on going ahead the way they started with the return of Summer Games.
What skins are you most looking forward to for Halloween Terror 2017? Let us know in the comments below!
Related:
Column
,
Event (In Game)
,
First Person Shooter
,
FPS
,
Overwatch
,
Play of the Fortnight
,
Seasonal Event
,
Shooter