Note: This Giveaway Has Ended. Thank You!
Revelation Online is a revolutionary MMORPG which enables players to experience a breathtaking adventure in the lands of Nuanor, and now it's coming to the West! Explore a vibrant world of ancient mystery and use the power of flight to experience absolute freedom. Spread your wings or master one of the many aerial mounts to soar through the sky. Dive into the waters or climb to the top of the world; you can go anywhere! Choose your class and customize your character, and set off to explore this amazing fantasy land, improving your existing skills and unlocking new ones. To make sure you set off in style, Revelation Online and MMOGames have teamed up to bring you this Revelation Online Golden Warhorse Mount Giveaway! Enter now and claim your key, and get your very own special Golden Warhorse mount!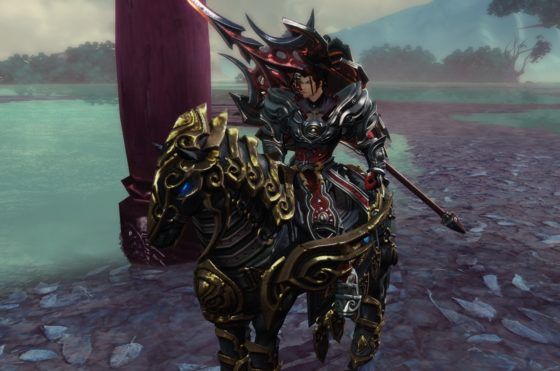 What You Get From The Revelation Online Golden Warhorse Mount Giveaway
A Golden Warhorse, a fast ground mount, that will help you travel the world of Nuanor in style!
How To Redeem Your Revelation Online Golden Warhorse Mount Giveaway Key
Sign up for an official Revelation Online account and install the client.
Navigate to your user profile and enter your code. Click "Submit."
Head to your inventory on the website here.
Select the item you would like to send to your character. Please make sure you already have a character created, if you do not you will need to refresh the page once you have created a character.
Once you have selected item, server and character which you want to receive the items proceed to click on 'Send'.
Your item has now been sent to your character, you will now need to retrieve it. You can do this by going to a Postal Attendant. There is one on the starting island and also one at the bottom of Sulan. You can double check that you have received your items by selecting the Mail icon (the one which looks like a letter) in the top right hand corner, you can also use this icon to navigate to your nearest postal attendant by pressing the 'item' button.
Once you have visited a postal attendant you can claim your items from the letter you have received by also selecting the 'item' button. These items will go to a temporary inventory where you will need to select 'obtain'.
Claim Your Key From Godankey
Claiming your key is fast and easy! Just enter your email in the widget below and click the key-shaped icon next to the address entry field. If prompted, re-enter your email address. Do the check that the captcha requests, and that's it! You will receive an email at the email address you entered shortly with your giveaway key! Note that in times of very heavy server load, the email may take an hour or two to arrive.
This is a limited code giveaway to be given out on a first-come-first-serve basis. It will run as long as there are keys available, or until December 31, 2017, whichever comes first. If you have any issues, please contact us.
Related:
Game Keys
,
Giveaway
,
Revelation Online