Star Trek Online is a free-to-play massively multiplayer online game where players can pioneer their own destiny as Captain of a Federation starship, become a Klingon Warrior and champion the Empire through the far reaches of the galaxy, or rebuild the Romulan legacy as the commander of a Romulan Republic Warbird. Its last expansion, Star Trek Online: Delta Rising, brought players into the Delta Quadrant and reintroduced them to iconic members from the Star Trek: Voyager cast including Seven of Nine, The Doctor, Harry Kim, Neelix and Tuvok. In Star Trek Online players have the opportunity to visit iconic locations from the popular Star Trek universe, reach out to unexplored star systems and make contact with new alien species.
Star Trek Online: New Dawn is now available! The new season introduced two new featured episodes, a revamped Cardassian mission series, a new reputation system and the brand new Admiralty System.
To celebrate the launch of Star Trek Online: New Dawn, we're teaming up with Perfect World Entertainment and Cryptic Studios to give away free T6 Valiant Class Tactical Escorts! Read on to find out more about the ship and how to enter.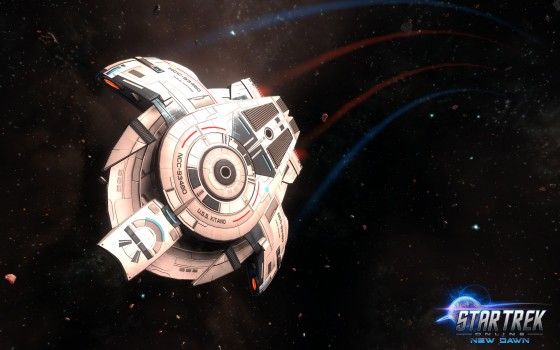 About the T6 Valiant Class Tactical Escort
The Tier 6 Valiant Class Tactical Escort is based upon the highly successful Defiant Class design.
Unlike the Defiant, which was designed specifically to combat the Borg, the Valiant Class was built with the Federation's new enemies in mind.
This starship features a Lieutenant Commander Tactical/Pilot specialist seat.
Costume
The Valiant Class comes with its own unique costume. In addition it can use the Defiant, Gallant, Gallant Refit, Vigilant and Vigilant Refit costumes for free, and it can use the Sao Paulo costume if that starship is owned.
Ship Details
Tier: 6
Availability: C-Store
Faction: Starfleet
Required Rank: Vice Admiral
Hull Strength: 34,500 at level 50 and 40,000 at level 60
Shield Modifier: 0.9
Crew: 50
Fore Weapons: 4
Aft Weapons: 3
Device Slots: 2
Bridge Officer Stations: 1 Lieutenant Universal, 1 Commander Tactical, 1 Lieutenant Commander Tactical/Pilot, 1 Lieutenant Engineering, 1 Lieutenant Science
Console Modifications: 4 Tactical, 3 Engineering, 3 Science
Base Turn Rate: 17
Impulse Modifier: 0.2
Inertia: 70
+15 to Weapons, +5 to Engines
Console – Universal – Quantum Warhead Module
Starship Ability Package (Escort)
Precise Weapon Systems (+Accuracy)
Tactical Maneuvers (+Defense)
Enhanced Weapon Systems (+All Damage)
Devastating Weaponry (+Critical Chance)
Withering Barrage (Starship Trait)
How to Redeem Your Code if You Win
Install and launch the Arc client.
Select the Arc logo at the top left of the client.
Select "Redeem a Code" and enter the item code.
Enter the game and visit the C-Store.
Rewards can be found on the "Promotions" tab.
Notes
*Please note that this item can only be redeemed by one character on a single account.
Contest ends January 4th, 2016.
Star Trek Online: New Dawn Giveaway
Vote Here
Vote for Star Trek Online in the MMOGames Best of 2015 polls!

Related:
Cryptic Studios
,
F2P
,
Giveaway
,
MMORPG
,
Perfect World Entertainment
,
Star Trek Online