The Game Has Changed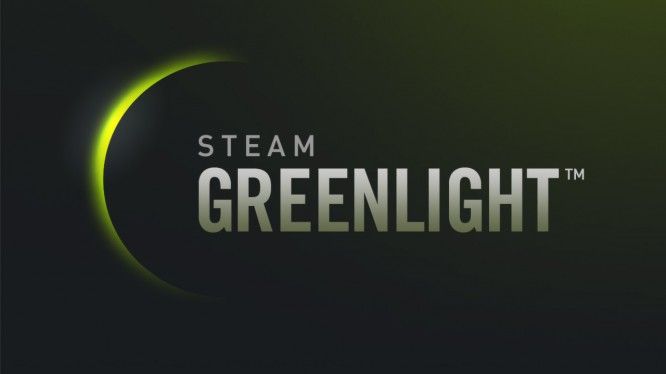 This morning when we got the news that Allods Online was now on the Steam Greenlight website, I have to admit all I could really muster was a frustrated sigh and a healthy roll of my eyes.  Over the last several months it seems like a number of aging or end of life massively multiplayer roleplaying games have made their way into the Steam Greenlight program in a desperate bid for relevance.  I know this sounds harsh but many of the titles that have made their way into the program have quite literally be coasting on vapor for years.  In the past year alone for example Dark Age of Camleot, Ultima Online, Ryzom, Istaria: Chronicles of the Gifted and Darkfall Unholy Wars have either entered or "graduated" from the Greenlight program.  Each of these titles has been released and available on the open market for a significant amount of time.  Darkfall Unholy Wars is the youngest of this batch and has been available since 2013, and the eldest being Ultima Online predates the release of Everquest.  To make matters worse all but Darkfall predate the already decade old elder statesman of the MMO genre World of Warcraft.
So it is without a doubt that when I see these games appearing in the Steam Greenlight program, I have to ask myself 'is it really fair?'  If you go to the Steam Greenlight FAQ page you can find this definition of the program:
Steam Greenlight is a system that enlists the community's help in picking some of the new games to be released on Steam. Developers post information, screenshots, and video for their game and seek a critical mass of community support in order to get selected for distribution. Steam Greenlight also helps developers get feedback from potential customers and start creating an active community around their game during the development process.
As outlined here, you can see they mention that the program is for "New" games and a way of helping them reach a "critical mass of community support" and allow them to create a community during the "development process."  The five games above are none of these things.  They are aging titles, some of which are long past what could be considered a reasonable life cycle.  Ryzom, and Istaria that was original released as Horizons have not seen any major upgrades since release.  So the question is: what do they have to offer players that is new and exciting, that differs in any way to the current experience?
The Digital Megastore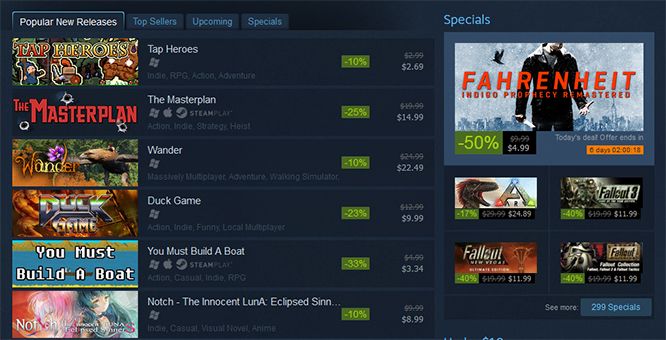 In February it was announced that the Steam platform has over 125 million user accounts, with a peak concurrency of 8.9 million players logged and active in their client.  This makes the Steam platform a juggernaut and can make or break the success of almost every game listed on it.  The end result is that almost every games manufacturer needs to list their product on Steam to be able to survive.  Sure there have been those who have broken out from the system like Electronic Arts, but I question if it has had anywhere near the same measure of success.  I have not been able to find any updated numbers since 2013, which in itself is somewhat telling, but at that point they had roughly 50 million user accounts.  While many users prefer sources such as GOG that offers DRM free game downloads, it seems that the majority of PC gamers have accepted Steam as a way of life.
These aging games desperately need visualization in a much larger market than their traditional distribution channels have given them.  In the case of all of the games mentioned above save Darkfall, the only method of acquiring the game is to purchase it directly through the games website.  When I started down the path of this story, I was under the impression that this was some sort of a cheap marketing ploy, to rely upon our nostalgia and have these games claw their way into financial success; however, upon doing research for it, I found this quote on the very same Steam Greenlight FAQ page:
Steam Greenlight has replaced our previous submission process. Any developer or publisher who is new to Steam and interested in submitting their game to the platform should submit their game through Steam Greenlight.
Clogging the Pipeline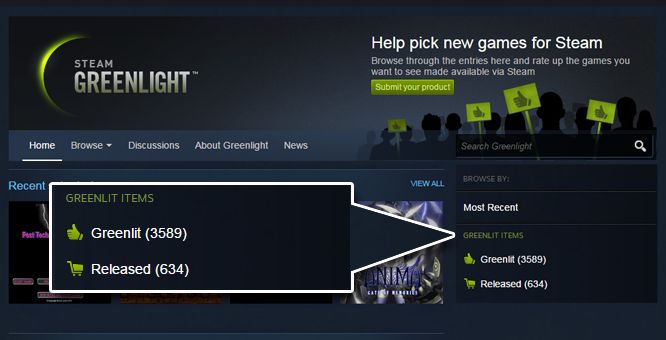 While at first glance I thought these aging titles were somehow sucking the oxygen from the room and harming the fledgling titles out there, it turns out that they were simply taking the only avenue that had been given to them.  Steam Greenlight has always been a popularity contest that allows any title that can generate sufficient hype within the community to get published.  I thought this hype cycle was the back door that allowed for all of the "shovelware," for lack of a better term, to clog up the Steam product pages.  It turns out that quite literally this is all Steam is offering to publishers as a way to get onto their listings.  In this strange "cage match" of video game publishing, are there actually any winners?
The Steam Greenlight program charges a $100 admission fee that will allow anyone to enter the program and list their game.  For major games studios–and even the long-embattled and struggling games mentioned above–this is a rounding error.  However for a true independent developer that is working at home to somehow manage to juggle the code, the art, and the testing, this is a significant amount of money to bet on the vague hope that you might get your game listed on Steam.  There are titles like this that look like they have promise wasting away because they are simply not generating enough buzz to get the votes needed to pass the initial phase of the program.  At the time of writing this article, there have been 634 games to make it to a released status out of a field of 3589 games still waiting and hoping to potentially get the necessary votes to make it through.  If you do the math, roughly 15% of the titles that pay the entrance fee actually make it through to being published, which, by no measure, can be considered "good odds."
The Sad Realization
If you browse through the list of the games that were "accepted" you will notice a large number of them that either were previously released before entering the program or got their funding through a high profile kickstarter like Shroud of the Avatar.  I am not suggesting these games or companies are doing anything "wrong;" but I am suggesting the system no longer serves the games it originally designed to help.  Kickstarter fatigue is a real and tangible thing, and I feel by the same token Greenlight fatigue is growing.  At the top of the article, I joked about my negative reaction that came from hearing about another game being released as Greenlight, and unfortunately it really is my initial knee-jerk reaction.  Each of us has a fixed amount of attention, and I feel like many good games are simply getting lost in the shuffle.  The system right now is clogged with traditional titles trying to get their way onto Steam, that it is extremely hard to find any of the original "indie" titles to vote for.
I don't want this article to come off as me bashing games for doing whatever they can to survive. The games I mentioned all deserve to live and find their niche audiences, and it is absolutely true that Steam is likely the best way to get new players to discover your game.  However it still seems disingenuous to pretend that these somewhat ancient games are "New" titles.  I feel like there needs to be a new system for bringing these nostalgic titles into modern distribution methods.  Greenlight was this "reality tv" of sorts for new and interesting independent games, and it was an enjoyable process to watch. Just like Kickstarter has become a mainstream funding vehicle, it seems that Greenlight has also become the only "on-ramp" onto the Steam platform. This article was spawned out of my frustrations and a feeling that folks were somehow "backdooring" the system, but it has turned into one where I have realized something else: it apparently is the system "working as intended."  The frustration is still very much there, but it is not directed at the developers or the game studios anymore. Instead, I am frustrated with a system that seems unequivocally broken.
Related:
Article
,
Column
,
Steam
,
Steam Greenlight