Swordsman Online is the newest Wuxia inspired MMORPG from our friends over at Perfect World Entertainment. Earlier this week we had an opportunity to sit down with Mark Hill and Gabrielle Heiland to ask a few questions about Swordsman Online and their new games launcher "Arc"
Thank you so much for taking time to answer these questions about Swordsman and the new Arc system. If you don't mind I'd like to start off asking a little bit about you. What's your name, what do you do at Perfect World and how were you involved with Swordsman and Arc?
Mark Hill: Hello! My name is Mark Hill and I'm the Senior Manager of Arc at Perfect World Entertainment. I have been overseeing the development and launch of Arc to serve games like Swordsman and our awesome player community.
What were the factors in the decision to move from stand alone clients to using a launcher?
MH: First and foremost, we wanted a convenient, faster way for our players to experience our games. We want gamers to easily discover and access new games they might be interested in and then offer a consistent user experience for each. That included new features like a single universal login for all games, streamlined the purchasing process, and providing community and communication tools all directly through Arc.
What makes Arc unique compared with other launchers?
MH: Our entire community has been built around free online MMOs, and we know that those are the games our players are interested in, so Arc takes a curated approach to content discovery. Instead of being just a storefront, library, or menu for games, Arc recommends and provides content based on the games that we know our players want to see. We are aware that MMO players like yourself might not want to be inundated with notifications of non-MMO games going on sale, etc. upon opening a launcher, so we only pick and choose games relevant to you for inclusion in Arc.
Additionally, Arc also has its own pre-patching technology so you don't need to wait for all 8 GB of Swordsman to download before you play, giving all games a faster load time and allowing players to get into games faster than ever.
 
How has your user base reacted to the implementation of Arc?
MH: When Arc was soft launched last year, there was admittedly some confusion among players as to whether or not everyone was being "forced" to use Arc or if it was excess software to track player performance data. But since our official launch in May, we've worked hard to clearly communicate Arc's value propositions to players, taking their feedback into consideration and making constant improvements. We're glad to see sentiments changing, but at the same time we want to keep improving. We know we have an important responsibility to ensure that the platform is stable, that all the features work as intended, and that
What has been the most enjoyable aspect of working on Arc and Swordsman?
MH: Swordsman has been in the works for a long time and to have that finally go into open beta exclusively on Arc was like seeing all our hard work come together as one. We were able to run very effective cross-promotion campaigns, offer incentives for current players to check the game out, and give them access to all of the Arc tools and features from the start. It's very exciting for us.
Swordsman is your first MMO to be released after Arc. Is there any kind of special relationship between the two?
MH: Swordsman is the first game to make its day-one debut on Arc and is also the first Arc exclusive. That means that for the first time, Arc players were able to access a brand new game and log in and play immediately without having to create a separate login or visit any other standalone websites. The Arc team also worked very closely with the Swordsman developers to integrate our "progressive patching" tech, which allows players to start playing the game after only downloading about 1GB. The rest of the game patches in the background while the game is played. We've seen some great feedback on that and we're very proud of it.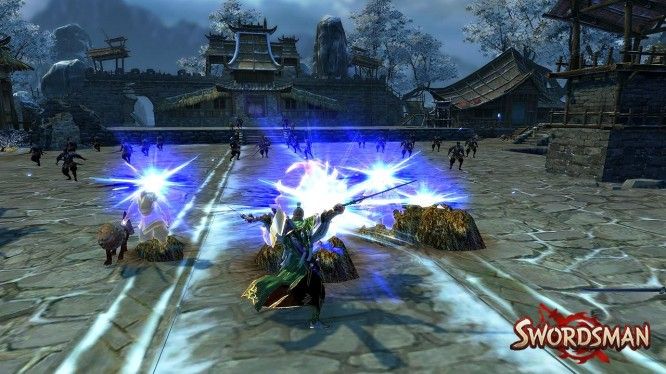 Can you please give us a brief premise of the story of Swordsman?
MH: For this, let me introduce you to Gabrielle Heiland, Swordsman's Product Manager.
Gabrielle Heiland: Hi, I'm Gabrielle (Gabe) Heiland, the Product Manager for Swordsman.
Swordsman is a story that follows the events of the novel The Smiling, Proud Wanderer. You play as a martial artist whose life is turned upside down when your village is attacked. You set out to learn about the world, your enemies, and the deepest secrets of martial arts all while influencing the characters from the novel's storyline.
Did Louis Cha have any direct input on the adaptation of Swordsman?
GH: The story of Swordsman runs parallel to the novel it is based on. You can see all of the major events of the book mirrored in your own character's journey through the world as you come into contact, and conflict, with important figures from the novel. The estate of Louis Cha was very helpful in guiding our developers through this engaging storyline, without risking any of the cannon from the original work.
Of Cha's fifteen novels what made you decide to choose this one in particular?
GH: These novels are hugely popular worldwide. Swordsman spoke to us because of the epic story of love, loss, betrayal, and conflict. All of these concepts lend themselves perfectly to a game, and the setting was expansive enough to give us freedom to make a truly great MMO experience. Swordsman is not Perfect World's only game set in Cha's worlds, however. Perfect World Beijing has recently released Legend of the Condor Heroes into Closed Beta, and has announced work on several mobile titles that also tap into these popular works.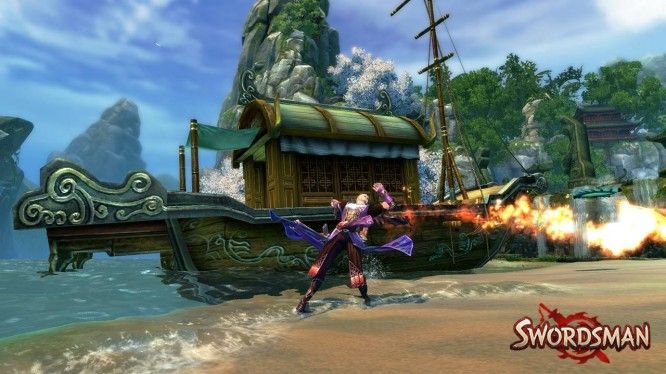 Wuxia based MMOs seem to be gaining in popularity, what makes Swordsman stand out?
GH: We strongly believe that our game stands out in several ways. Firstly there is our story, which is told through stunning, action packed cut scenes. The main quest line really immerses the player in the lore of this world. We also are proud of our action combat. Our players have really responded to the fluidity of our combat, as well as the specialization that we have provided. After choosing a class, players have nearly infinite skill combinations they can mix and match in our Style system, and they can create their own move combos to really unlock all the power their class has to offer. In development, the character's skill animations were designed using motion capture of actual martial artists. We think this gives players a sense of both the artistry and power of martial arts through their characters.
Have you taken any steps in the localization process to raise the level of appeal for western gamers?
GH: We're always looking to improve upon the games with localization, though in the case of Swordsman we did not want to heavily change the stories. Mainly we cleaned the game up for clarity, though while you're playing you may run into jokes, puns, or references that will likely only make sense to a western audience.
Do you have a favorite zone or area in the game?
GH: I do a little bit of everything in Swordsman, though my favorite features are the Guilds and the Instances. Guilds are meant to be large and take up the bulk of your playtime once you've reached mid-game. Having a social group with its own goals and enemies really adds a layer of depth to the world. Instances, meanwhile, are wonderfully varied, with lots of different terrains and bosses, and 4 different difficulty modes. Most nights I can be found doing Hero level gear runs with my guildmates to help everyone get their set pieces. Don't tell though, they don't know they have the PM in their guild.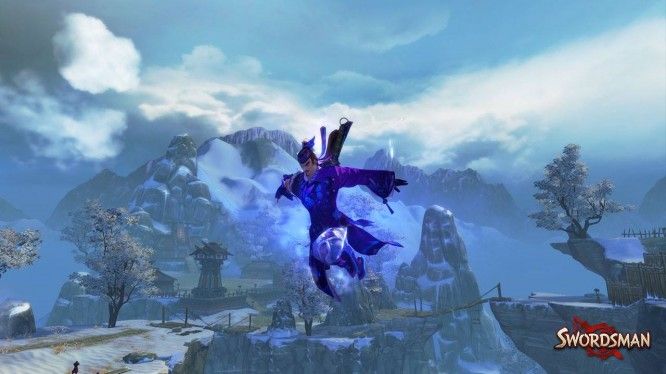 Can you explain the reasoning behind the "Energy" system implemented in Swordsman? At this time more energy is not available to purchase in the cash shop. Will that change?
GH: The Energy system is in place to make sure the game is fair and competitive for everyone, and also to keep players social. We'd rather people spend more time with their guilds and parties rather than off by themselves using self-cultivation. We have no current plans to add items to give you more energy to the marketplace, but we're always looking for ways to make the game experience better for our players. In the future when we want to speed up the process for new players or for alts, we may add an item to the market, or remove the energy systems all together. It all comes down to player feedback and what will make the experience the best for them.
Speaking of cash shops, other then cosmetic items, what kind of items are available for purchase?
GH: We really wanted to avoid putting anything in the shop that would give players an advantage, as this is a very skill-based game. We've focused mainly on selling items that will allow you to stand out, like all of the fashions and mounts, as well as items that will improve you experience, like crafting energy pills, or luck items for various systems. Everything that has a power impact on your character can also be gained in game, or purchased from other players.
Which "school" is your favorite in Swordsman online?
GH: I'm torn between Five Venoms and Shaolin, the two gender-specific classes. Five Venoms particularly caught my attention when I first looked at this game because unlike many games with a female-only class, the option wasn't a healer. Five Venoms make use of the poisons they gather from animals to dish out really nasty damage over time area spells. They also have a really fun skill where you can wrap your whip (the class' weapon) around an enemy's neck, drag yourself through the air to them, then stomp on their face repeatedly. No one would dare tell a Five Venoms to hang back and heal.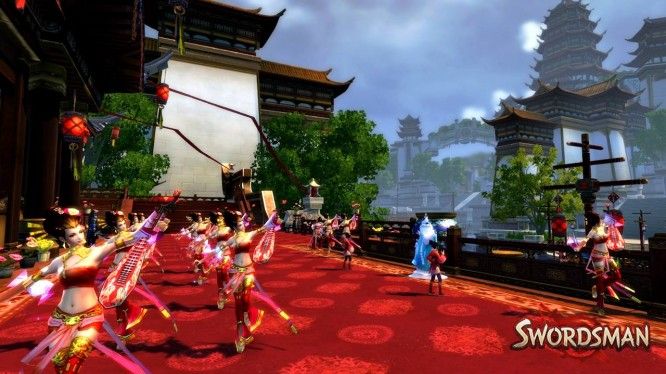 Will there be any in game events run by Perfect World?
GH: Definitely! We're actually gearing up for a special event right now! Once we're officially launched, we look forward to doing lots of live-streamed instance and dungeon runs with our players, and the arena system lends itself perfectly to PvP competitions. We're also frequently running giveaways on our social channels and on the forums, so players should make sure to check those out so they don't miss out on anything.
What can we expect from Swordsman online in the future?
GH: There's so much content being worked on by our developers, and we look forward to bringing it to our audience as soon as we can. We'll announce expansions on our website as we get closer to them, but we already know that before the end of the year we're looking at a level cap raise, new instances, a new end game dungeon, and improvements to several key systems.
Thanks again for taking the time to answer these questions. Do you have anything else you'd like to tell our readers?
GH: Thanks for reading all the way to the end! We're always looking to make the game experience more fun for our players, so stop by our forums and tell us what you think about the game. Give us suggestions, tell us what's bothering you, or just hang out and chat with the other players.
MH: And thank you as well for giving us the opportunity! Hope you enjoy Swordsman and Arc's offerings that we will announce soon!
We really appreciate Mark and Gabrielle taking some time out of their busy schedules to answer a few questions for us. Swordsman Online officially launches today. Be sure to take a few moments and check out our preview of Swordsman from Open Beta.
Related:
Developer
,
F2P
,
Interview
,
Martial Arts
,
MMORPG
,
Swordsman Online