The Latest MMO Alpha and Beta News
Check out the latest news from the MMO Alpha and Beta world below to find out what's been going on since last week!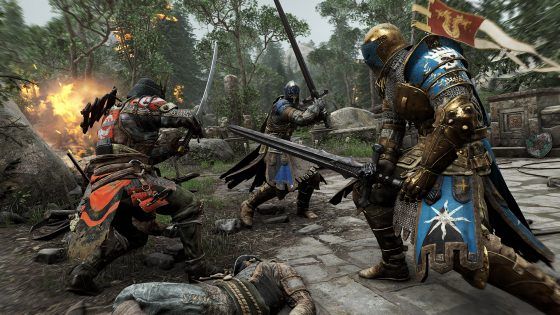 Ubisoft is starting the year in full force by preparing to take For Honor into closed beta this January. Announced with a beautiful new trailer that simply gives us chills, registrations are now open on the official website for anyone eager to participate in the For Honor closed beta running between January 26 and 29. The more patient (or less fortunate) can simply wait until the game's official launch day, February 14, to start their journey onto the thin red path.
Next week also marks the third closed beta test period for Revelation Online. Running between January 13 and February 2, the third closed beta test offers players an increased level cap, new maps, missions, dungeons, events and PvP modes to test, as well as preserved character progression for players who had already participated in either of the first two closed beta tests.
For those looking for a new sandbox MMO to get lost in, Shards Online's alpha is now live with a persistent build that includes player housing, open world PvP, three dungeons and numerous quests. What is more, all players with expired free trial access can play the latest Shards Online alpha build for free this weekend, January 13-15.
Darkfall: Rise of Agon also has ambitious plans for the first half of 2017 as it is aiming for an official launch in early access somewhere in the next four months. You can check out the official roadmap for 2017 to find out what developers are focusing on improving and expanding, both before and after the game's early access launch.
Lion Games' MMO Soulworker is due to launch in open beta on January 18, although only in Korea for the time being. Here's hoping that NA/EU publisher Gameforge might announce a western beta as well.
For a slightly different experience, 2D MMORPG Little War Online is now live in early access with its alpha build. The game does require somewhat decent aiming skills since combat is targetless. Currently, it can be accessed through its browser version, but plans include Android, iOS, OSX and Linux versions.
Ark Park is becoming less of a mystery as we receive more details on the VR spin-off of everyone's favorite dinosaur-themed sandbox, slated to launch this year. Wildcard Studio released a short introduction to the concept, revealing that the focus was on observing Ark's creatures instead of fighting them – which may come as either great or disappointing news, depending on the audience.
Players craving adventure and a more social atmosphere should check out the latest developer video from the makers of Sea of Thieves. Focusing on co-op gameplay, this inside story reveals just how important cooperation is for the game, and that all mechanics were designed for social interaction.
Lastly, Orcs Must Die! Unchained is getting a considerable update on January 17 with the release of patch 1.7 which adds three new high-end battlegrounds and three daily quests awarding a different type of currency each.
That about does it for this week's MMO Alpha and Beta List. Notice anything missing? Get in touch and we'll take a look!
Find links to everything new to the MMO Alpha and Beta List this week and much more in the list below. Look for this icon:

to see everything we added this week.
Pre-Alpha and Alpha
Games in Pre-Alpha and Alpha are games in early testing, are often under an NDA and require keys to access.
Early Access
Games that are in Early Access tend to require a purchase and/or access to Steam. Anybody can access games in Early Access but builds tends to be unstable as they are still under development.
Closed Beta
MMOs in Closed Beta are those which require a key to participate in, typically for a limited number of people and occurring prior to an Open Beta testing phase.
Open Beta
Open Beta is the phase in which everybody can take part at no cost, with no key required. These days, Open Beta tests tend to be a soft launch with no wipe.
Crowdfunding
MMO and MOBA related crowdfunding events taking place through Kickstarter, IndieGoGo, or open donations through a game's website.
Giveaways
We often have keys and items to give away that either offer access to a game in testing or grant rewards in games still in testing and of course we add these to our MMO Alpha and Beta list.

| | |
| --- | --- |
| MU Legend Closed Beta Key | Giveaway |
| Erectus the Game Closed Beta Key | Giveaway |
| Empire: Revenant Beta Gift Pack | Giveaway |
| Dragonbone Dynasty Open Beta Gift Pack | Giveaway |
| Crystal Saga II Open Beta Gift Pack | Giveaway |
Related:
Alpha
,
Beta
,
Beta Data
,
Closed Beta
,
Crowdfunding
,
Early Access
,
In Development
,
MMORPG
,
MOBA
,
Open Beta
,
Pre-Alpha