MMOGames spoke to Andrew "Avarem" Krausnick from Trion Worlds at Gamescom about Trove's latest announcement: the Dino Tamer Class. Trove is the largest MMORPG voxel game available on PC, and there is a great number of updates coming up SOON(TM). We're rather hoping that this means September, but since the Dino Tamer is still being developed, no date is not confirmed yet.
Jurassic Theme
At last, the new class is revealed. After players recently discovered it, and the Trove streams acknowledged the name of the new class, we've finally seen what it can do, and that is summoning pets. Now there's going to be some strategy involved with this, namely the fact that these pets will require meat in order to be summoned. If they are defeated, they'll require some food in order for the cooldown to complete. We were shown the initial three pets: A Triceratops (for tanking), Dimetrodon(for pure DPS), and a Pterodactyl (for crowd control and damage). They expressed an interest in adding more pets in the future, but we can expect these three at the start.
Tips from Avarem himself for the new Dino Tamer class include dotting as much as possible, focusing on the timer related to meat for the pets, and feeling free to switch classes to try out if the style suits you personally. And that's not all, we have word that there's going to be an "Armored Triceratops with Lasers," as part of the new mods that will become available. Dinosaurs and lasers, what more could we want? Okay, so it won't exactly be Dino Riders because it will be far more awesome.
Classes weren't always part of Trove, but by now they have 14, and Trion Worlds has really been experimenting with offering new features for players to experience. Currently, players can switch classes at will, and that means that the Dino Tamer will be available to all. Any player over level 20 can visit the test servers and see for themselves.
New Dinosaur Biome
The upcoming update will also include new a Biome, which will be a Jurassic jungle with sticky swamps, where you battle dinosaurs and primitive Trovians. The biome is multi-tiered with another level above the trees. This level is the canopy of the forest and can be explored by getting boosted upwards through the trees. There will also be a new dungeon, which looks like a meteor that crashed right in the middle of a stone-age village, and there will be giant T-Rexes spawning randomly for open-world boss battles.
What to Expect in the Trove Update
New mods are coming and they will proceed with introducing new styles. The game is going to be available to play on Xbox One and on PS4 by the end of the year, and the game will soon be available in French and German. Afterwards, they are looking to localize to Brazilian Portuguese and Russian as well because they see so many influential gamers from these areas and really want to accommodate them. They've also partnered with a Chinese company, but not much is known about what this will entail for the game yet.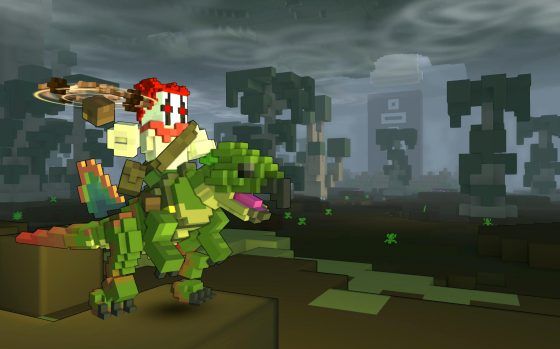 And in the Future?
One of the upcoming challenges for the developers will be focusing on story. They have a great variety of ideas ready, which will center around the characters and the narrative, connected to certain points in the game. Additionally there will be a great focus on improving the ways to load mods, which is one of the core strengths of the game. They're going to focus on class gems as well, for changing abilities. Early next year, we can expect a shift in focus for more power updates, which might even include an increase in max level. They'll keep improving clubs in the updates and focus on UI improvements as these updates come along.
Related:
Gamescom
,
Gamescom 2016
,
MMORPG
,
Trion Worlds
,
Trove
,
Update