Normally, I'm not the type to tell my audience what games they should or shouldn't give a try. Instead, I generally attempt to give the best information at my disposal, either in a review or a feature, and let our readers here at MMOGames make their own decision regarding whether a game is worth their time. However, this time around, I'm highly recommending that you all give Guns of Icarus Online a try, and here's why:
Unique Atmosphere
Although rather niche, the steampunk genre is one that has existed, albeit quite popularly, for quite some time. There are movies, comics, and other videogames that take you to a world that incorporates fantasy, technology and a 'Wild West' theme. There are even some incredibly mainstream franchises that visit the genre every now and then, such as the beloved Final Fantasy IX.
With its unique art style, crazy contraptions, and Victorian era costumes, it's quite difficult to not instantly recognize a steampunk theme. However, there's one aspect that's even more iconic than everything else combined: airships. Not to be mistaken with the real-life airships, or blimps, from the early 1900s, steampunk airships are heavy-metal monstrosities that are basically floating galleons.
There's just something awe-inspiring, if not majestic, about warships sailing through the clouds. And that's where Guns of Icarus Online comes in. There is no other multiplayer game on the market that has put as much depth or detail into airship combat.
Crew and Customization
Guns of Icarus Online is all about acting together with your team as a cohesive unit on a massive airship. Everyone has their own role to fill, whether participating as a pilot, engineer or gunner, and each class has a progression tree with unique abilities. As matches progress, players might find themselves covering down on other roles as well.
In Guns of Icarus, there are multiple points of failure on a ship from the guns to engine, and if the engineer team becomes overwhelmed it might be necessary for the gunners to start repairing. That works the other way as well; if the ship is already in top shape then the engineers should hop on a turret. There's a fluid nature to the game where everyone is constantly in motion and working to maximize their airship's effectiveness.
Alliance Metagame
Currently, the only game modes that exist in Guns of Icarus are PvP focused. There is quite a variety, with six game modes total, but that leaves a very obvious gap in its potential audience. Thankfully, the upcoming Alliance expansion is going to add all kinds of PvE elements and implement a new metagame.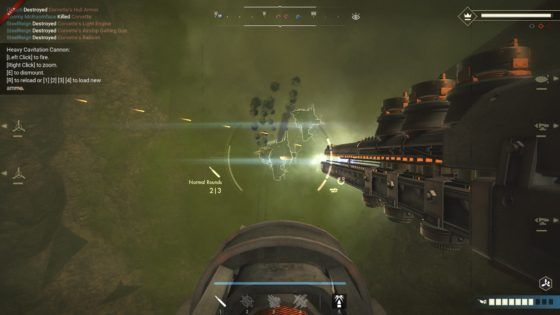 Having tested out each of the new PvE types, there's definitely going to be something for everyone. I covered each of these modes extensively in a preview last year, but there have been a few changes since then. Notably, the Survival mode is now finished and will have crews facing off against wave after wave of enemies. There will even be an endless mode where players are rewarded based on how long they survive and if they can get to the extraction point alive. The Defense mode was also tweaked slightly; it now has an attack and a defend phase instead of having everything happen simultaneously.
With the introduction of Alliance, players will be asked to join one of four factions. This will unlock a new 'World' tab in the game menu that displays a map with 56 different territories. As players compete PvP skirmishes and PvE objectives, they will earn currency that can be spent to influence the war between factions. At the end of each season, in-game history will be written based on player actions and the face of the world will be changed depending on the land each faction occupies. Additionally, players will earn seasonal rewards and faction bonuses for participating.
Of course, an expansion wouldn't be complete without new airships, skills, and weapons. The initial four faction ships will include the Anglean Corsair, Chaladonian Shrike, Baronite Crusader, and Mercantile Magnate. Additionally, the Stormbreaker will make its way onto the battlefield shortly after the others. New weapons include: Heavy Cavitation Cannon, Heavy Remote Mine Launcher, Seraph Tempest Missiles, Kalakuta Gas Mortar, Aten Lens Array, and Februus Weaponized Coil. My personal favorites are the Tempest Missiles, which will follow your crosshairs until they hit your target, and the Heavy Cavitation Cannon due to the sheer power and weight behind the gun.
Each class will also be receiving a set of special abilities that will be on a long cooldown. These include things like the Oversurge Ram Ability for pilots, Cataclysm Rounds (double damage) for gunners, and the Salvo Neutralizer (directed shield) for engineers. In total, there will be six new special abilities for each class in addition to their current loadouts.
Microtransactions Done Right
It's far too often that games will be cheap, or free, and include an oppressive cash shop. However, the little extras available in Guns of Icarus are actually 'micro.' Everything on the Market is cosmetic and includes things like ship figureheads, decals, and paint colors. These range in price from $0.25 to $6.00, which is hardly going to break the bank, and you can earn a ton of other cosmetics from simply playing the game.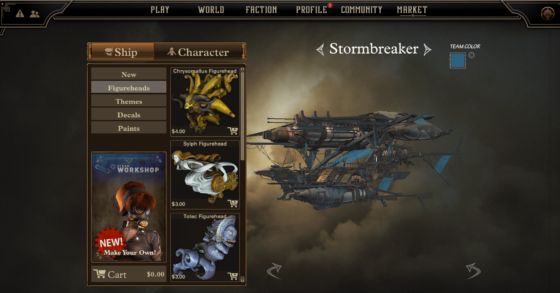 It's Free!
…Well sort of. Currently, we're hosting a massive giveaway for Guns of Icarus right here on MMOGames. Throughout the week, we'll be giving away thousands of keys for this unique airship game to give players a taste who might have overlooked it in the past. This will unlock the base game forever, however, the expansion will still need to be purchased in order to unlock the PvE portion of the game when it becomes available.
If you want the full experience, Guns of Icarus Online Alliance will be released on March 31 and can be purchased on Steam for $14.99.
Let us know your experiences with Guns of Icarus Online in the comments below!

Related:
Beta
,
Expansion
,
Guns of Icarus Online
,
Muse Games
,
Shooter
,
Steam
,
Steampunk