On Wednesday, August 17, MMOGames spoke to Super Evil Megacorp's COO Kristian Segerstrale at the Twitch booth, at Gamescom, where they are showcasing Vainglory. They were inviting players to try out the game and promoting their latest character Samuel, the Dark Mage. Vainglory is a competitive mobile MOBA, with millions of players and it is an eSports success story, pushing the bar for professional mobile gaming higher. The newest patch will remove some pain points for the game and it will add easier ways to learn how to play it.
Practice Bots
As of today, you can play matches with bots. You can both play with and against bots. These matches are unranked and serve as a training ground before you opt to try your skills against other players. The way it works is that you can choose various game modes in order to train. You can sign up for Battle Royale or for Coop. Each of these training matches will have 5 difficulty levels ranging from 'very easy' to 'very hard.' If you choose Battle Royale, you can pick your own hero. The bot on your team will fit heroes that match with the hero you chose. Opponent bot teams are always comprised of random heroes, so that you are always training to deal with new situations.
But it goes further than that, you can choose whether you want your bot-team-members to be lane or jungle, and they will pick those places in order to complete the battle. The bots will also be sending you social pings for communication, to let you know when you're doing well. These sorts of matches can be ended at any time you need or want them to without any negative consequence, so you can exit quickly if necessary. After a botting match is done, you get the same result screen as you would after a regular match, so that you can compare stats and learn from that.
In short, this allows you to learn how to play Vainglory, in a safe environment until you feel ready to test your skills against other players.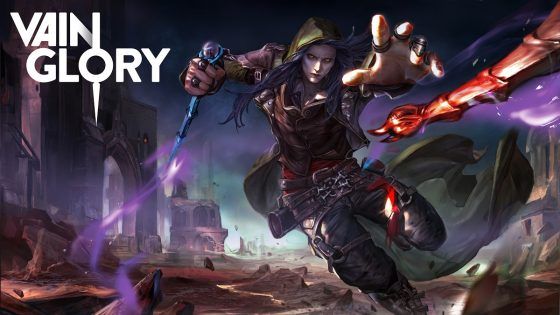 New Hero Samuel
Samuel the Dark Mage is the newest hero. You can play him in the lane or in the jungle, and he will be able to do very high DPS throughout the game. He's very combo oriented and playing Samuel will require practice to get his combos just right. He offers various new challenges, both in playing him, playing with him in your team, or playing against him.
The way that Super Evil Megacorp approaches this is really oriented on what the community is feeding back to them. So, they chose to make new heroes with abilities that are under served in the other roles. Additionally, they ask themselves: how would I want to play? They decided that there wasn't enough depth in the roaming roll. Roaming felt stale because there were only a few ways to play. So, a while ago, Lance gave you new abilities, not by direct damage but by controlling opponents. Lyra was the first back-line support, healing and stoping the enemy from attacking with zone control. This way they've catered to missing abilities. Now it's Samuel's chance to shake thing up.
Samuel's Abilities
The most notable addition that Samuel offers is the dark cloud that travels across the screen in a chosen direction, and Samuel and his team members will receive boosts inside that cloud. The cloud moves forward by itself and this is a huge influence in gameplay. Enemies who enter it will have their life drained, which is added to Samuel's HP, and the cloud can heal team members as well. The restriction is that team members also need to be in the cloud at that time. So the cloud commits the team to a certain movement, allowing for buffs and heals if they go forward with it. But what if you don't want to go forward? Samuel's cloud is also very effective during retreat, especially because of the healing abilities, which may just save him from being beaten. Dealing with the cooldown timer of the cloud will be key for both the players on his team, as well as their opponents.
Samuel's lightning bolt heals him at the same time, so essentially it drains life. The projectiles he shoots go in an arc towards the opponents. His ultimate is called Oblivion and puts enemies to sleep for 2.5 seconds, which is an eternity in a MOBA. Enemies will wake up if they take direct damage, however, it's important to note that they won't wake up from the cloud damage. Oblivion differs from stunning effects, because Stuns are meant to gank enemies, but sleep is meant to disable opponents so that you can focus on others instead.
Samuel's Position in Teams
The players are super excited about Samuel already. The recent rogues weren't big damage dealers on their own. So, Samuel offers a new way to cater to that need. We can see him as zone control, with ranged DPS abilities. He's very suited in the laner role, and he functions a bit as a sniper. His play-style is offensive and rewarding at the same time. He's not so squishy as some other close combat, high-damage dealers but will require tactical thinking. Adding Samuel to your team will require the whole team to be committed to get together and make meaningful decisions during play; no halfway decisions.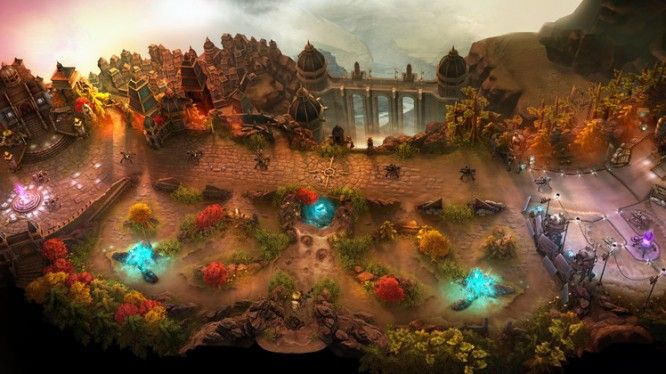 Pro teams are already readjusting their full strategies. They will have to get a feeling for the timing of whether Samuel's cloud is on cooldown or not. Mobility becomes even more important. He's still vulnerable, of course, especially without the cloud.
What Else in Update 1.21
You will also find a whole set of new skins and cosmetics as well as small but important optimizations, making the file size of the game smaller, which is ideal for smartphone devices with less storage and it saves battery life.
Coming Up Next for Vainglory
Superevil Megacorp is looking forward to the EU championships in Cologne, as well as the USA championships in Seattle in the next couple of weeks. In the Autumn, players can expect the Autumn Season launch. Unfortunately they couldn't reveal anything specific yet. The only things they've mentioned is that communication is going to be very important, especially with Samuel being added and needing to know when cooldowns are ready. Of course, they will continue to evaluate and improve the interface further.
Unconfirmed
There's another opportunity that they are considering. After the botting training matches, they would like to provide players with more information than the standard match result screen. They would love for new players to really be able to ask themselves: what could I have done differently and how was my timing? Why did I die? When did I make a mistake? How that feedback will come, that's something they're still working on. Their ultimate goal is teaching players the layers of depth of the game. And once players are done with botting, they hope that they will pick the game up together with friends.
"It's really so fun to play together. But we need to get you there, so the whole team experience is important," says Segerstrale.
Related:
eSports
,
Gamescom
,
Gamescom 2016
,
MOBA
,
Super Evil Megacorp
,
Update
,
Vainglory