This is an article in part of a regular series of articles where you can read about role-playing adventures in online games of all sizes. Today we're heading to another galaxy, one that is far far away. It is vacation time in Star Wars the Old Republic.
It's a hard life being a smuggler nowadays. The war between the Republic and the Empire has taken an even worse turn now with this former Jedi and former Sith guy Revan causing problems, it is all very confusing. But getting shipments from one port to another is what I do and I am great at doing it, I just wish the pay would follow the heightened risk that comes with both moving the merchandise through space and to the ports. A calm port is always a great place to load stuff unto. But in the end we all need to eat and my crew will not stay with me long if they don't get paid what is expected from me, especially Akaavi, she will without doubt kill me in my sleep if I don't find a job with good payment soon.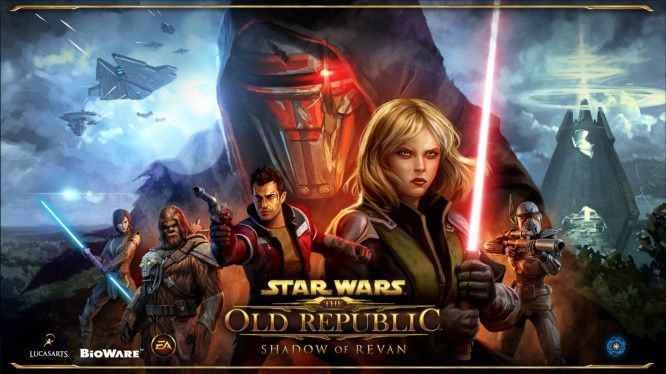 Even a smuggler needs some time off, especially in times like these. Just to go away for a while to clear the head and maybe turn a nice darker green color in the sun. So I told everyone in the crew that I was going away for vacation to a sunny place for a while, and Guss was as happy as always while I talked, really don't think he knew what I was telling them though. Now I just needed to figure out where I was going and what I was going to wear, so I went to the Star Fleet where I let everyone out of the ship and told them I would call them as soon as vacation was over and I had a new job for us. While I was on the fleet I did a little shopping, I needed a new bikini and a nice dress that would let the breeze through so I didn´t get too hot while at some sunny tourist spot.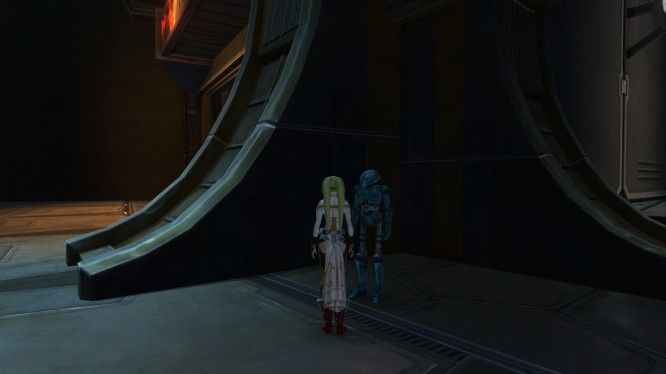 After a day of shopping at the fleet I was totally exhausted. There's just so much happening there – people asking questions, Wookies screaming for no reason, everyone trying to sell their useless wares for much too high a price and worst of all, guards everywhere so I couldn't even shoot that hassling droid trying to make a move on me while I was buying my bikini, what a creep! So I decided to chill out in the cantina for a little while before moving out at lightspeed. One too many drinks later I stumbled into my ship and passed out before even reaching my bed, what a start to the vacation! Waking up with a headache worse than the fall of Taris, I decided to set the navigational computer to Tatooine. It's no lake and can be a pretty boring place, but at least it was sunny and warm there unlike in Ilum where we did our last job.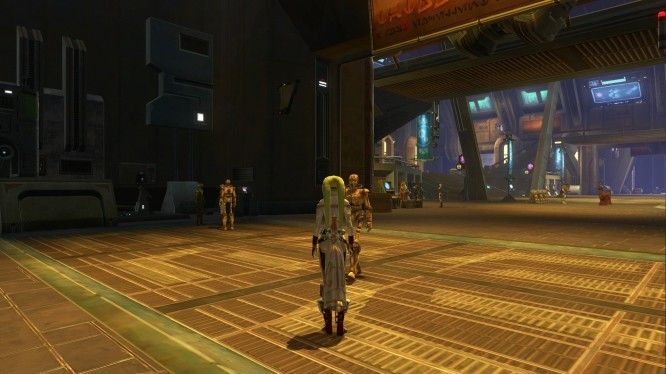 Arriving at the Anchorhead port in Tatooine, I asked protocol droid for a nice a calm place to hang out and do a spot of sunbathing. At first he just stared at me with that "you are so stupid" look, but after a while he gave me directions to a calm spot with no sand people for as far as the eye could see. As soon as I got outside, I powered up my walker and moved with speed towards the given location, and let me tell you, sitting this high up while moving over land really makes you feel like a queen, plus it doesn't attract hostile animals in the same manner as a speeder does. Nothing could get in my way of relaxing in the sun this time.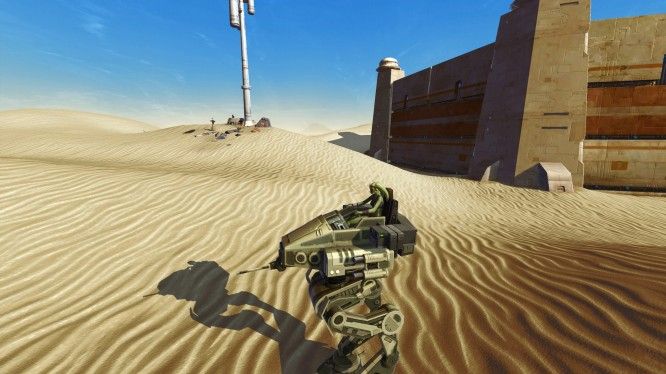 Arriving at the location everything seemed quiet and nice, but boy was I in for a surprise. The dead Jawas and glowing skull were a dead giveaway for the danger present, but given my profession and everything I encounter on a daily basis I took it as natural, as how things always are. So it seemed out of nowhere when this huge beast came up trying to smash me and I finally made the connection between the protocol droid's evil laughter as I'd left and the tales about something called the Trapjaw in the Dune Sea, where I now was, and whom I now encountered.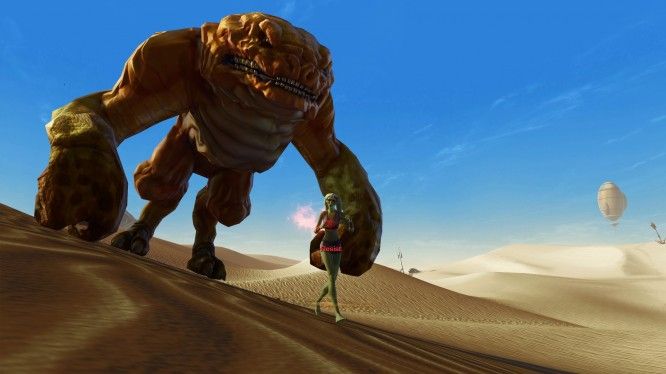 Being the badass Gunslinger that I am, I picked up my trustworthy guns and gave him a nice fight before finishing him off with a well-placed shot to the head, taking a huge trophy from him and bragging all night at some cantina in Anchorhead. Or at least, that is the story I wish I could tell. The truth is that I ran like hell, all through the Dune Sea until I got to the outpost set up out there and Trapjaw was long gone. For a creature so big and violent, he at least moved extremely slow. Tatooine was no place for a vacation after all, which I should have guessed from the start, so I beamed up to my ship leaving behind the warm hostile hellhole.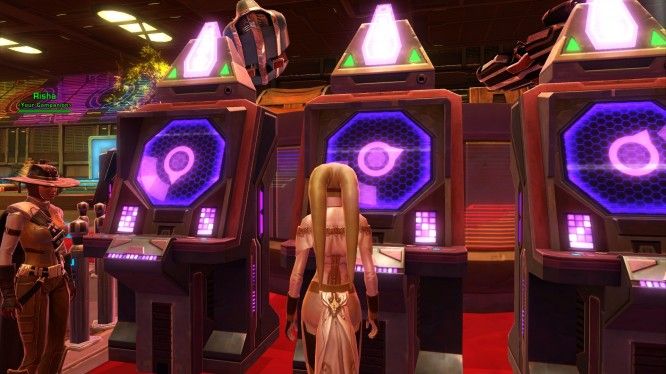 With that failure of a sunny vacation out of the way, I did what all failures do: gamble. I spent one week of drinking, and winning and losing a lot of money in Nar Shaddaa until Risha came and brought my drunk ass back to the ship with a new assignment. What a captain I am…
So that is my story, that is how it goes for a smuggler who decides to take a vacation in a galaxy far far away from whomever might read this diary entry. While all the other crew members where rested and happy, I ended up being the Grinch of vacations.
Related:
Bioware
,
Column
,
F2P
,
MMORPG
,
Roleplaying
,
Star Wars The Old Republic
,
Virtually the Same