MMOGames has been given the unique chance to take a look at War Thunder, an MMO Military Simulator where you the player are given control over various realistic vehicles of war. Ranging from tanks to warplanes, every need you have with going in to war vehicular style is met for the player. The developers, Gaijin Entertainment, have assured us that in terms of content, every few months there will be new features and vehicles for players to explore. So there is never a dull moment!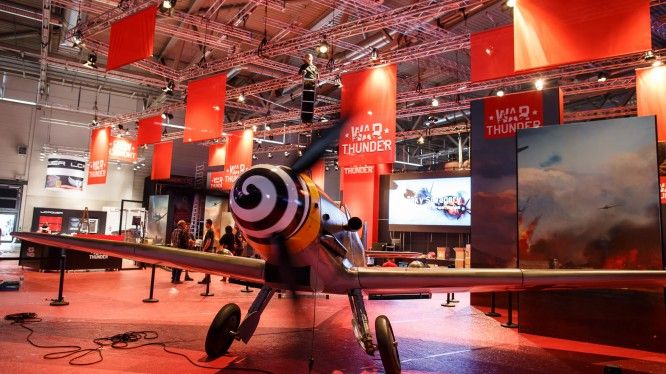 For instance, at Gamescom they have showed us a total of 8 new vehicles! These include 4 new tanks, and 4 new warplanes for players to destroy each other with. Also two maps have been updated, both Norway and Poland will have a polished new look to them! As you may or may not know, they devs have added a new feature to the game, where they pick the best designs of the players and implement them into the game for players to purchase. Revenue will then be shared accordingly, so if you have a very nice design, make sure to upload it and perhaps you will be earning some money very soon!
In addition, they will be adding a new game mode called The Race, where players can race each other in the sky. This mode has been added for players who have seen enough of battle and want to sit back and race each other for fun! See a tutorial video of that down here:
Also in the presentation they have showed us an all new destructible environment coming to the game. Realism is definitely key here, as you can tell down in the video below, a great deal of detail is implemented to give the player a realistic feeling of destruction, when shooting a building or house. Who said destruction wasn't fun?
When you play a game like Call of Duty, don't you just love it how you can take a look and see the way you have died? A new feature in War Thunder will allow players to see EXACTLY how they were taken down. Think Sniper: Elite style kills, but then for tanks. You will actually be able to see how the shell penetrates your tank or plane, and you can see the damage you take and your simulated drivers have taken. In War Thunder, there are no health points, the damage you take is shown directly on your vehicle, and you must judge how badly hurt you are by the way of what state your vehicle is in.
Also, for those who want to further study the different armor sections of their ground vehicles are able to do so in the Hangar, where the armor has been highlighted for players to explore. Here you can learn every nook and cranny of your ground vehicle, so you know what your weak or strong parts are of your tank.
But without a doubt, the biggest announcement was the Oculus Rift implementation. War Thunder can be played with this magnificent device, allowing players to take control of a tank or a plan, completely immersing them into the game! I have been handed a joystick and a throttle and tried out one of the fastest planes they had! I was able to look all around the cockpit, I could even look back and see the tail of the plain. However, the actual piloting of a plane was more difficult then I initially thought. Especially because I got kind of sick to my stomach will flying the plane, and eventually got a bit too dizzy and crashed my plane!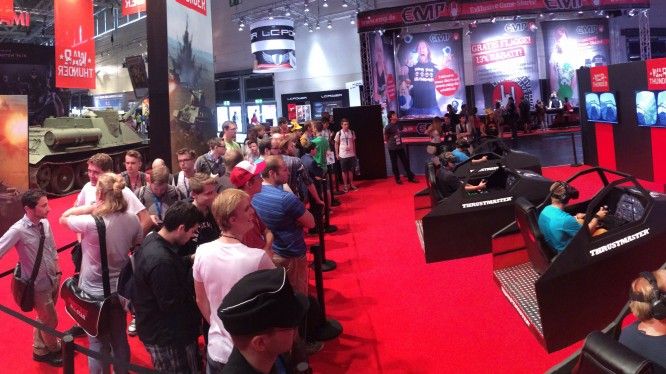 Of course, flying a virtual plane with virtual reality goggles isn't for everyone. I must admit, I had a blast playing it, and wish I had such a device at home. They said they have been fiddling around with the Oculus Rift version for War Thunder for about a year, but the real big announcement was that they were going to be the first game on the PS4 to be able to play with Sony's VR goggles called Project Morpheus.
Remember kids, some of these features are still a work in progress, and will be added later to the game at some point in the future. As a last note, War Thunder will also be playable on the Shield tablet, which you can hook up to your television screen and play it like a console game.
OH and also, the game is still in open beta! If you are interested in trying this game out, head on over to their official website. Here they announce new stuff every other day, like new planes, tanks and game modes that will be implemented into War Thunder. War Thunder is a next generation MMO combat game dedicated to World War II military aviation, armored vehicles, and fleets. You will take part in many of the major combat battles fought during World War 2 and the Korean War, fighting with real players from all around the world. So are you up for the challenge? I'll see you on the battlefield!
Related:
Beta
,
Features
,
Gamescom
,
War Thunder