One of the biggest complaints that I see from high level players in the Wizard101 forums is the lack of content. They're not wrong, for the most part. Once you finish the main content of the game, there really isn't that much to do. This seems like a fairly obvious statement, but most MMOs offer some form of engaging endgame content. Of course, you can run around, decorate your house, talk to people (as much as the chat system allows you to), but honestly once you're done, you're done. Well, guess what? This issue has been fixed. KingsIsle recently released the Mirage world, and if you've ever wanted to step into a wizard populated version of Agrabah then welcome.
Step Into a New World
Mirage is unlike any other world you've experienced in Wizard 101. It has twisted allegiances, hidden treasures, and dangers thought long buried. Of course, the dangerous part is a given; whenever you have a fantasy desert setting you're going to have the 'Oh crap, we thought we buried that ancient curse a thousand years ago and now it's back to steal food off our dinner table.' I don't know what else we should have expected.
As you traverse this brand new and arguably amazing world, you'll have the opportunity to explore sprawling cities and speak to new, interesting NPCs. Each of which has their own story and some will bestow epic questlines upon you. Most importantly, you're going to have the chance to explore an open desert unlike any since Krokotopia. This time, however, the danger is even more present with hazardous canyons and scattered jungle rifts filled with enemies.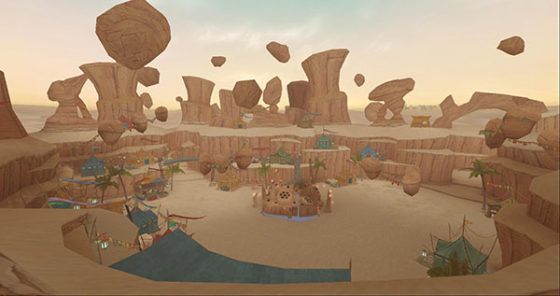 Echoes of Aladdin
I mentioned Alladin's city a minute ago, and the new content expansion features a city called Aggrobah, which is nicknamed the 'City of Thieves.' Don't worry, it really lives up to its name as crime lords like Ali Baboon have taken control of the city. Now, one thing that really turns me off here is the fact that the order of Chronomancers command the 'Sands of Time,' which kind of makes me wonder if the Prince of Persia is about to burst out of the woodwork and rewind us all into oblivion. But hey, if we're wandering through Aggrobah I guess all bets are off.
A More Conditional Journey
This is a high level zone, so players need to be level 110 to participate, but even more importantly they need to have finished the "Back to the Arcanum" quest. If you have finished it, however, head over to Librarian Fitzhume to take on the "Post-Polaris Prognosis" quest to kick off Mirage's signature questline. If you don't know whether or not you've finished the required questline, check the Polaris tab of your Badges screen to see if you have the 'Defender of Land & Sky' Badge.
If you've finished all of the requirements and are ready to jump in and start casting spells, then head on over – it's included for premium players. If you're a crowns player, however, you'll be buying 6 separate premium zones at a cost of 1995c each (about $11), but there's definitely some serious fun to be had.
Related:
Column
,
KingsIsle Entertainment
,
MMORPG
,
The Weekly Wizard
,
Wizard101