Right now Bless Online is in Early Access and many people are calling it the worst MMORPG ever. Steam is offering refunds past the usual 2 hour gameplay period and reviews are pretty evenly split between good and bad. The game's producer has now apologized for the mess that the Early Access is in. We'll get into all of that in more detail further down but first, it's important to take a look at where we've been with Bless Online so far.
Bless Online was first announced way back in 2011 when it was announced it would be made using Unreal 3. At that point it was almost complete silence about the game for a year when they announced BLESS as it was known then, would be shown at G-Star 2012. While there they showed over 80 minutes of gameplay and were hailed as one of the most gorgeous MMORPGs ever seen.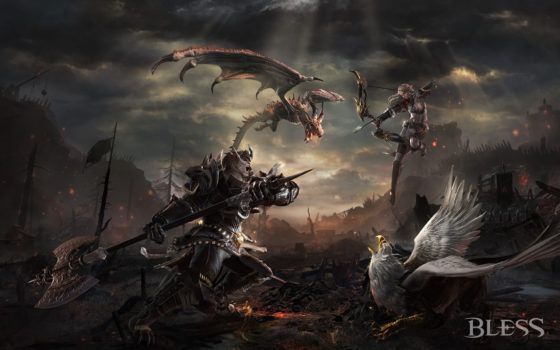 The first closed beta was held in January 2014. That year though they skipped G-Star which was somewhat of a worrying sign, but it wasn't too big of a deal since they were right in the middle of getting ready for their next closed beta event which would happen in December 2014. Both of these and other closed betas were limited to Korea only. The final closed beta, as they were calling it at the time at least, was at the end of September 2015. In November 2015 the game was delayed indefinitely, though it was said that small focus groups would be scheduled for the following month. So, while the game was put on hold not all hope was lost.
Fast forward to January 2016 and Bless was back in the news with a new website and an announcement about open beta. That open beta was anything but smooth. Almost as soon as the servers came on they went down and remained down for a 5-hour maintenance. Steparu, who had also taken part in the closed betas said they had been hoping for an improved combat system but it didn't actually seem like there had been any changes. They also went on to quite damningly state, "I suppose I'm enjoying it just a little bit, but not overly. I mainly want to progress to explore the PvP aspects of the game and see some end-game dungeons if any. It doesn't seem like a game I would stay up 24 hours and play non-stop unless I have nothing to do." Ouch. In February it looked like Daum would be publishing Bless in the West but this wasn't to be the case. In April it was announced that Aeria Games had signed on to publish Bless Online in the west. Of course, this wasn't to be either.
In June it was announced that Bless Online would be published in Russia by 101XP. At the same time though the Korean version of the game was having a hard time and they merged servers for the second time. This brought the game down to only 2 servers. Despite those troubles in August Founders' Packs went on sale in Russia. In September Aeria announced that the test schedule for the west would have to be postponed because…the project was bigger than expected. Meanwhile Russian closed beta testing was announced and started in October. In November Aeria Games announced that some of the reasons for the delay were the fact that Neowiz was working on improving the game and adjusting the combat system. 2016 finished with rumors that the western release of the game had been canceled since the teaser website had gone offline. It was a long, hard year that Neowiz was almost certainly happy to see behind them.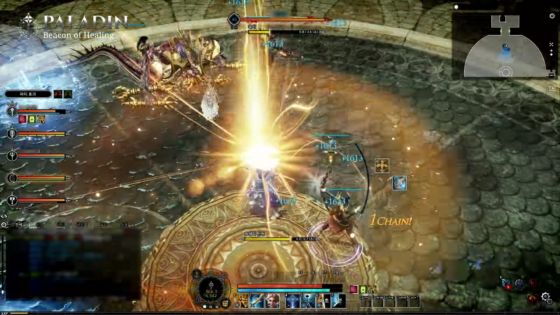 However, 2017 didn't start off on a great foot. One of the last two remaining Korean Bless servers was taken offline. Another was opened however so the actual number of servers didn't change. In April they were holding an event to try to entice players to come back to the game. Meanwhile in the West people were still asking when it would be our turn. That was just the start of their April though. Within the same month, they announced a Japanese closed beta and that the Russian beta would shut down indefinitely, for more development.
In June 2017 Neowiz and Aeria Games announced that they had canceled the agreement between the two companies and Bless Online would not be published in the west by Aeria. At the same time, Neowiz said that they were going to focus on the Japanese testing and made no comment about looking for a new publisher in the west. Jens Knauber, the COO of the Gamigo group who owns Aeria said this, 'Together with Neowiz we have come to the conclusion that the technical difficulties cannot be overcome, so we agreed not to complete the game for our respective markets. This has not been an easy decision for us and we put a lot of thought into this step. On the other hand, we have a number of interesting new releases coming up to complement our already strong portfolio, so our players can look forward to several new games in the near future." Just a few days later Neowiz announced that they would self-publish the game in the west.
Before they would release the game in the west, however, Neowiz announced they would be giving the game a heavy overhaul which they called Rebuild Project. The goal of it was to gut many of the game's systems and start from scratch. Just a couple of months later though they announced that they would start testing the rebuild in Korea. At the same time, Japan was getting a second closed beta, though there was no mention of the rebuilt version of the game being used there. By the end of 2017 we knew it would be coming out on Steam in 2018, but still knew nothing of the monetization plans.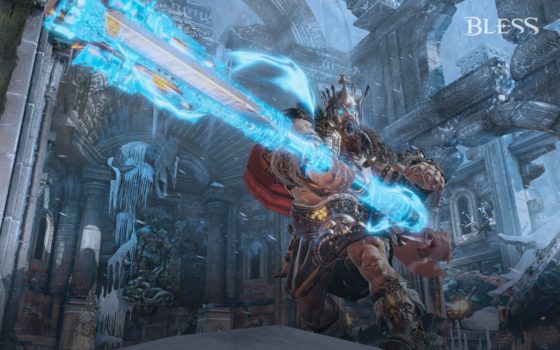 All of this finally brings us to this month, May 2018. The bad news started with a leak of the Founders' Packs which ranged from $40-$200. Neowiz was then forced to come out and say that the game would be $29.99 at launch and there would be a subscription option. This subscription option, which Neowiz REALLY doesn't want you to call a sub got called out for being pay to win. To make things even worse, the monthly subscription wasn't priced for different regions so it will be a lot more expensive in some areas than others. Around this same time, members of the games media were invited to a press preview of Bless.
In response to the negative press around the Founders' Pack and subscription service, Neowiz quickly made a few adjustments. In a Q&A they announced that pricing would be different for each country and the $200 founder pack would cost $149.99 instead. They also got rid of the Premium customer service which had previously been part of the collector's edition.
Then Bless Online's Early Access (soft launch) went live and everything went to hell. To begin with, there weren't enough servers made available, a problem pretty much every large MMO has at launch. Queues were massive with some people waiting more than 40 minutes. To make matters even worse the servers were having to be restarted multiple times, meaning you could wait in the queue for 40 minutes only to get in for 5 minutes before the server goes offline and you have to do it all again.
When players were finally able to play they found that when you get into a dungeon you can bypass travel for cash shop currency. There was a mighty uproar about this. Many people were saying this was the sort of thing you'd only see in mobile games.

Players also got through all the content in the game very quickly and when they hit level 45 they realized that none of the endgame content from the other versions is in the game. One streamer actually broke down in tears over it all.
We also can't forget that there are market duplication bugs plaguing the game as well.
All of this lead to Executive Producer Sungjin Ko issuing an apology and promising they're working on the problems. On the missing content, he had this to say: "We know that there is end-game content missing that many of you expected in this first Early Access build, given what's available in the other versions of the game. Additions like the 15v15 PVP and new high-level dungeons will be added in 1-2 weeks' time, with more to come soon after." All founders who haven't gone for refunds have been given 2450 of their premium currency, with which they can teleport from that dungeon 32 times. According to Steam Charts over the last couple of days, Bless Online has peaked at 34,288 players, with the same time the next day only having 1,000 fewer players online.
Looking back at the last few years Bless Online has been in development it really shouldn't come as a surprise to anyone that things haven't gone smoothly. It will be interesting to see how the game progresses from here but it looks like a very vocal group have been turned off the game and Neowiz still has a lot of work to do.
Related:
Article
,
Bless Online
,
Early Access
,
Launch
,
MMORPG
,
Neowiz