We already know that PlayerUnknown's Battlegrounds is huge. We know from earlier last month that it is a record setter as far as Guinness is concerned. The game from the PUBG Corporation and developer Bluehole continues to spread its popularity and influence wide.
Where is there left to go then? Clearly, the answer to some at least is the mobile games arena.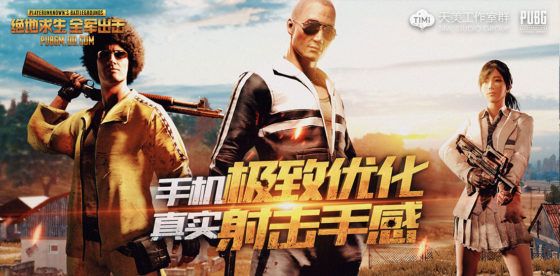 MMOCulture have reported on a deal announced between PUBG Corporation and Tencent to publish PlayerUnknown's Battlegrounds in an edited format in China as well as launching a trailer for PlayerUnknown's Battlegrounds Mobile (PUBG M).
For anyone who really needs to get a little more frying pan in their life, clearly, this is good news. Assuming that is the game makes the jump back, coming west after being developed in the east. Certainly, the mobile game is touting features that the current PC game does not. This, of course, begs the question of how much of the new naval warfare and aerial combat is from a game that had been in development pending the deal and announcement and how much of it is a game that was being designed to act like PUBG without the name? Either way, PUBG fans in China, with over a million of them having already pre-registered for the beta, are getting a great idea offered to them.
As an added twist, however, we have a tweet from an analyst at Niko Partners, Daniel Ahmad.
So yes.

Two PUBG Mobile games.

One is developed by Tencent TIMI studio and the other is developed by Lightspeed & Quantum Studio.

Both are developed on Unreal Engine 4.

First game adds naval battles and arcade feel. Second one seems to be more in line with original PC game pic.twitter.com/NxEX889W9r

— Daniel Ahmad (@ZhugeEX) December 1, 2017
So clearly the popularity of PlayerUnknown's Battlegrounds cannot be underestimated if we are going from one PC titan to apparently two mobile versions in development. Only time will tell what the differences end up being and if we over here will manage to get our hands on them. You have to wonder now if the current battle royale rival Epic Games is eyeing up Fortnite and phones. As a direction, it could be interesting but as a venue to get into, who knows however if the western mobile game market is ready for a battle royale over 4g and wifi.
Source: MMOCulture, Twitter
Related:
News
,
Player Unknown's Battlegrounds M
,
PlayerUnknown's Battlegrounds