The Age of Ultron is upon us. Here in Europe the glory that is the Avengers has already launched on the big screen.
Naturally enough this means that Marvel Heroes 2015, published by Gazillion Inc, is getting a bit of an update to keep up with the times. The new content coming down the line is almost as big as everyones favourite giant green rage monster.
Beginning April 24 and continuing throughout the movie's launch window, new additions to the game include the following:
Play All Game Content as Six Core Avengers characters for free: Want to see the game as Iron Man (his first time as playable for free), Captain America, Iron Man, Thor, Hulk, Black Widow or Hawkeye? Feel free.
Nine Movie-Inspired Costumes: Captain America, Iron Man Mk 43, Iron Man Hulkbuster, Thor, Hulk, Black Widow, Hawkeye, Vision and Scarlet Witch.
Avengers: Age of Ultron Game Mode: Designed for advanced players. Team up in groups to defend the citizens of New York from waves of Ultron Sentries attacking Central Park, then take on Ultron himself at the ruins of the Avengers Mansion.
Ultron Attacks! Random Events: Ultron Sentries appear throughout normal game modes, allowing players of all skill levels to experience action inspired by Avengers: Age of Ultron at any point during gameplay.
Quicksilver Team-Up: Quicksilver fights alongside you, taking out enemies with his blazing speed via a newly revamped Team-Up system.
Scarlet Witch Full Design Review: Many of her powers and mechanics have been redesigned, including new movie-inspired abilities and the addition of an extra-devastating Ultimate Power.
Hawkeye/Black Widow Mini-Design Reviews: Hawkeye receives his 9-shot rapid fire speed loader thanks to his new quiver, and Black Widow gains new stun batons.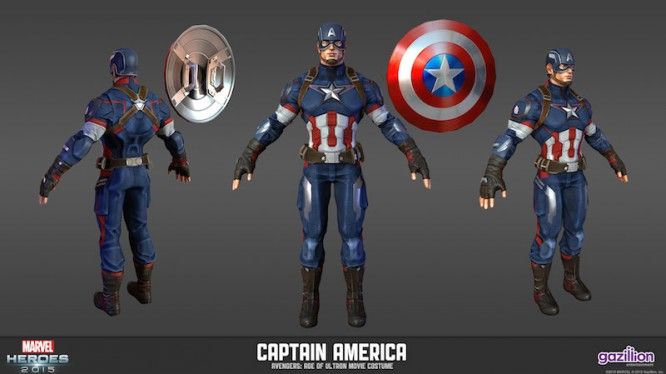 As a note in Marvel Heroes, all characters default to their looks inspired by the comics. All movie-inspired costumes must be purchased separately. So if you really want to go full Hulkbuster, keep it in mind. Also following the release pattern of the movie, European countries and other worldwide territories get all of the above today with North America and others following next week closer to the movies May 1st launch date.
Source: Press Release
Related:
Gazillion Entertainment
,
Marvel Heroes
,
News
,
Update