It doesn't seem like it, but at the end of the month Aion will be celebrating its third anniversary as a free to play game. Originally released to the west in 2009, Aion made the decision to go free on February 29th (leap year) of 2012. Since then, the game has done really well among free to play games and has been generally well received by its community. To celebrate the occasion the team will be holding boost events on the day of the anniversary and will be giving away free items to players via an in game survey.
Aion hopes to start its new year with a high note. It will be releasing a new content update on March 5th 2015 that adds additional weapons and two new areas.  For more information on the anniversary or new update, please visit the official website.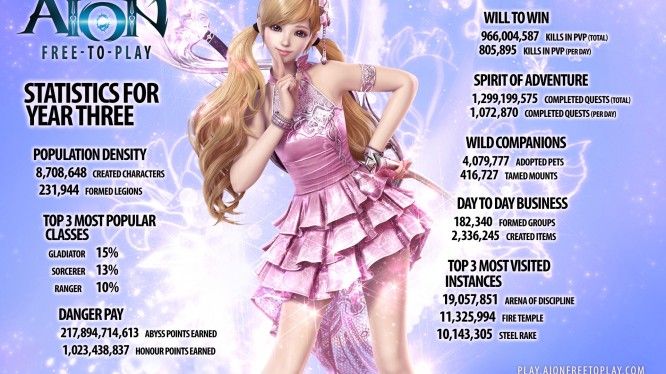 From Aion:
On 25/3/2015 we will be rolling out update 4.71 on the European servers. Lord Beritra is driving his invasion forwards with force and is attacking with new kinds of weapons. On top of this, there are two new areas to explore: Tiamat's old home Ghera and Rugged Katalam, once a refuge of the Rune.

Boost Events

For the occasion of the anniversary, there's some great boosts from 28/2 to 1/3/2015:
+ 100% AP
+ 100% EP
+ 100% drop chance
+ 100% Kinah

In-game Gifts

We're celebrating our anniversary, yet you'll be the ones getting the presents! On 27/2, 28/2 and 1/3/2015 we will be sending out some cool items via the in-game survey. Enjoy!
Related:
Aion
,
Event (In Game)
,
MMORPG
,
Update