Putting your character together for an MMO is one of the most important things you can do, and with the wealth of options on hand for Albion Online players, getting things just right can be vital. Enter the Albion Online Character Builder, a new utility that lets players of the sandbox create and share their best in-game builds.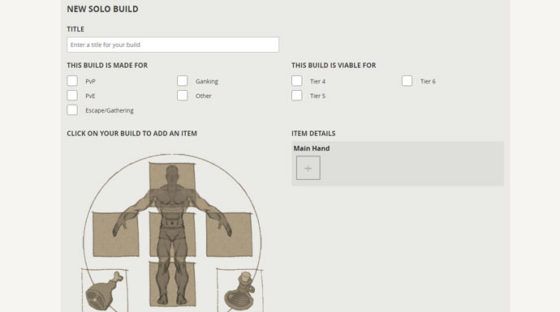 The foundation of the Character Builder is the Solo Build, which lets players put together a character for a variety of playstyles such as PvP, Ganking, or PvE. Builds can be fully customized with selectable skills, passives, gear slots, and even preferred potions and food items.
The Group Builder lets players pull together a selection of Solo builds into groups of 3, 5, 10 or 20 to check out how those builds mesh together and find any holes in composition. The Group Builder is touted as a way for players to plan their next group activity in advance.
Finally, the Character Builder has a series of articles to browse. Articles are written by players and can contain any number of guides for a variety of activities in Albion Online.
You can take a look at everything in the Character Builder here.
Our Thoughts
Collecting the knowledge and experiences of the playerbase in one location is probably the best resource for new and veteran Albion Online fans alike. We love the idea of having an officially supported utility like the Character Builder available.
Source: official site
Articles Related to Albion Online
Albion Online Mobile Development Interview
Blue Isle Studios Announces Online Sandbox Citadel: Forged With Fire
Nexon Announces Launch of Mobile Sandbox MMO Durango
Related:
Albion Online
,
Character Builder
,
News
,
Sandbox MMO