Albion Online's launch is fast approaching and those who have bought in with Founder's Packs will soon get their chance to start their full adventures in the sandbox MMORPG. That doesn't mean players can't buy in and arrive early, however, as Albion Online Starter Packs are now on offer. In addition, Founders and Starters now know the times and dates for their respective launches.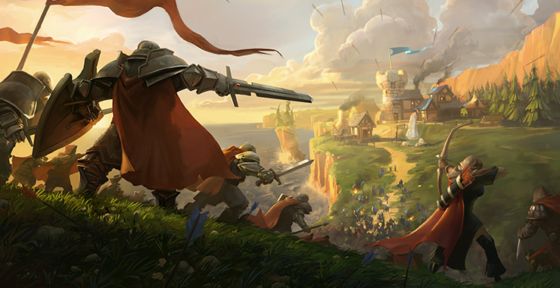 Starter Packs offer similar benefits to previously-offered Founder's tiers: Veteran Packs get 2,000 Gold and 30 days of Premium access; Epic Packs get 4,500 Gold, 60 days of Premium, and epic equipment and avatars; Legendary Packs will 12k Gold, 90 days of Premium, epic and legendary equipment and avatars, and a legendary horse and cart. Each pack is priced at $29.95, $49.95, and $99.95 respectively.
Founders will be getting all of the Starter Pack benefits for their corresponding tier as well as an extra 10% of Gold in addition to their already granted 10% Gold. The offers are in response to player outcry regarding Starter Pack rewards being perceptibly better than Founder Pack rewards.
"We were so deep in the echo chamber of finally getting the game out of release that we simply lost the outside perspective along the way," explains a forum post. "We simply messed up and are actually asking ourselves how that could happen."
Those who bought in at the Veteran level will get to play on Wednesday, July 19th. Epic tier buyers get in on Tuesday, July 18th, while Legendary tier starts on Monday, July 17th. All tiers get to start playing on their respective dates at 1 pm UTC. Full information can be seen on the official site.
Our Thoughts
Judging from the reaction to the apology and offer of extra goodies to Founders, the devs of Albion Online have made the right decision. Perhaps now we can get back to the business of getting this anticipated sandbox MMO out to its full launch!
Sources: press release, official forums
Articles Related to Albion Online
Albion Online Mobile Development Interview
Albion Online Galahad Update
Fractured is Three Sandbox MMOs in One
Related:
Albion Online
,
Founder's Pack
,
News
,
Sandbox MMO
,
Starter's Pack