Alright, there's fishing in the upcoming Albion Online Lancelot update, which explains the whole "reels in" reference in the headline. There's also a variety of other adjustments, new items and other features in the update as well, so please read on and don't hit me for that headline, okay?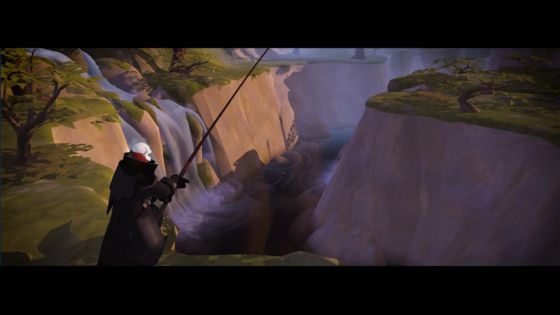 So, yes, Lancelot will let players of the sandbox MMO cast a line into the waters of the world and snag some fish. Fish can be sold or used as ingredients for food, and players can even find "boss" fish or sunken treasures. The types of fish are also different based on biome or saltwater vs. freshwater.
If PvF (that's player versus fish) isn't your thing, Lancelot is also introducing several improvements. Guild masters will now be able to have more control over their members with new tools to assign roles, track resources and set member permissions. GvG is also seeing some changes such as Rogue Mages that can be placed in enemy territory to siphon energy.
Lancelot is also bringing new roaming mobs to the game's landscape, level 3 artifact armors, some new 2v2 PvP Hellgates, a tier 6 group expedition, and a number of improvements to the MMO's servers in an effort to reduce lag.
All of Lancelot's features – fish-related and otherwise – are arriving on March 12th. More details can be read here while a trailer full of PvF can be seen below.
Our Thoughts
Get hooked, indeed. Fishing in a sandbox MMO always seems like a pretty dangerous proposition, but then again having another resource to sell isn't all that bad. We hope that players of Albion Online like all the things that the Lancelot update will bring.
Source: press release
Articles Related to Albion Online
Albion Online Review
Top 5 Ways to Make Silver in Albion Online
Second Albion Online Expansion Since Launch Announced
Related:
Albion Online
,
News
,
Release Date
,
Sandbox MMO
,
Update