Just what is happening with the Elite Dangerous Thargoids? Well, evidently, they're collecting resources just like any peace-minded player would. That's the best guess available from a fan-made news alert showing footage of new alien activity in the game.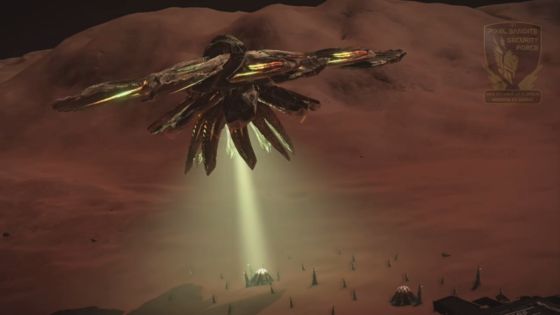 The report comes by way of the Neto News Network, which has documented multiple sightings of Thargoids in the Pleiades Sector of space. Eyewitness accounts along with images and video show the alien ships warping in to the area, hovering over a structure or deposit of some form, and then warping away. The ships have offered no hostility to Commanders who have watched these activities unfold.
It's largely assumed that the Thargoids are mining resources, but once more there are no clear explanations. In the meantime, you can watch the news report below, which also lists an address for one such apparent mining site.
Our Thoughts
Well, whatever the Thargoids are doing, they're clearly about to pool resources for some big something-or-other. All that can be done by players in Elite Dangerous is to wait, wonder, and perhaps worry. Those of us on the sidelines, however, are definitely excited to see what's going to happen next.
Articles Related to Elite Dangerous
Elite Dangerous Reveals Launch Date for PS4 Version
Elite Dangerous Commanders Update Arrives
Players Make First Contact in Elite Dangerous
Related:
Aliens
,
Elite: Dangerous
,
News
,
Sandbox MMO