There are still a lot of planets that need to align, but the latest annual report from Capcom has hinted at the potential for a Dragon's Dogma Online Western release.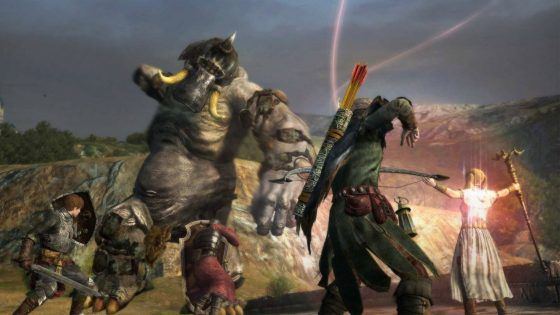 Dragon's Dogma Online is, as the name suggests, an online version of the popular Dragon's Dogma series. It was released in Japan on PC, PS3 and PS4 in August of last year. It features eight different classes and an active combat system reminiscent of games like Black Desert Online. The title has been a Japanese exclusive, but the most recent annual report from Capcom says that might change.
Game director Kento Kinoshita is quoted on page 54 of the report, which discusses the team's plans for the title's current development as well as interest in releasing to audiences in the West. "Once we have established a solid foundation in Japan I'd like to consider bringing this game overseas, where there are a great many online game players," reads the report.
The work on establishing the mentioned foundation continues in earnest, with the title's Season Two underway and framework for Season Three already being planned.
A trailer showing off some of the game's classes and gameplay can be seen below.
Our Thoughts
Dragon's Dogma Online looks like it has a very visceral and engaging combat system and a gorgeous world, so we're definitely intrigued by the potential for a Western release. We're not sure if the fanbase of the Dragon's Dogma series is large enough to support a global launch, but we could be pleasantly surprised, especially if the game itself is solid enough to rope in MMO players who are otherwise unfamiliar with the IP.
Your Thoughts
Would you want to play Dragon's Dogma Online? Have you been playing it already? What are your thoughts on the game? Tell us below in our comments.
Source: WCCFTech
Articles Related to Dragon's Dogma Online
Games Like: Dragon's Dogma
Capcom Announces Dragon's Dogma Online
Games Like: Monster Hunter
Related:
Capcom
,
Dragon's Dogma Online
,
News
,
Western Release