The recent September update has opened up a new area for ArcheAge castle building, allowing guilds to settle zones in new areas of Auroria.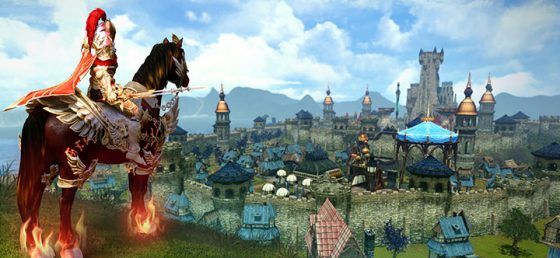 The post alerts players to "prepare for a rush" as the Sungold Fields and Exeloch can now be claimed by guilds to build castles. "While treaties are forged or broken, and honor is bled, only you can determine how these zones will take shape in the world of Erenor!" states the post.
The claiming of these lands follows the standard territory claim requirements of bringing a Purifying Archeum pack to an unclaimed lodestone. Once the Lodestone is claimed in either zone, player housing becomes available, with housing areas in Exeloch situated along the coastal waterfront and housing in Sungold Fields set along coastal inlets and mountainous regions. While the neighborhoods in either zone are smaller in comparison, they offer convenience to World Events as well as exclusivity.
Getting the required Archeum pack has specifics of crafting timing and location, all of which can be read on the official site.
Our Thoughts
The land rush in ArcheAge is always a hotly contested one, and having open housing as well as possible open attack only makes things that much more frantic. We assume that any new claimable land will be popular, and so things in ArcheAge could become very interesting in the Auroria region.
Your Thoughts
What are your thoughts on the new guild building regions? Will your guild take part in the land rush, or are you going to sit this one out? Tell us in the comments.
Source: Official site
Articles Related to ArcheAge
ArcheAge Update 3.0, Orchidna's Hatred, Bringing New Races
ArcheAge Ascension Expansion Goes Live, Trion Celebrates with Player Gifts
Trion Intends to Clean Up Toxic ArcheAge Community
Related:
ArcheAge
,
Guilds
,
News
,
Player Housing
,
Sandbox