Nothing says "party" quite like a corgi. So what do you do when you want to throw a big party like the ArcheAge third anniversary? You invite a big corgi, of course. The oversized stumpy doggo is one of the primary attractions for the MMO's three-year celebration.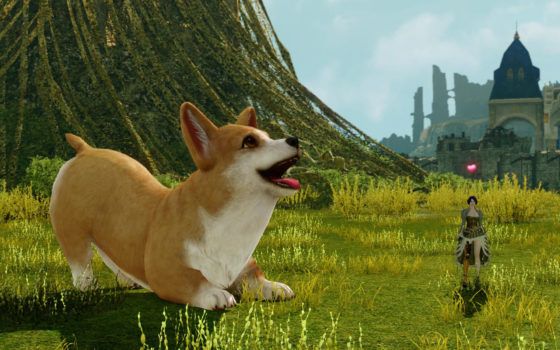 The Titan of Fluff pictured above is named Kirby and from now until October 18th, players can head to the Diamond Shore region to help Kirby's owner Amary take care of him. Those who feed, play with, bathe, and generally treat Kirby like the good boy he is will be rewarded with Mirage Capsules that can be opened for a broad selection of unique rewards.
Players can also claim an anniversary gift bundle that includes firework consumables, a unique title, and a temporary 30-day Homecoming Vehicle mount among other prizes. The Shadowguard Festival is also running at the same span of time. Players can participate in a series of six different quests to earn Shadowguard Coins.
Additionally, there will be an APEX Bonus Promotion where buying 5 APEX gets you a bonus 1 and buying 10 gets you a bonus 3, along with triple Exp, Honor, Vocation, and Loot Drops for a limited time. Both special promotions are running from September 21st starting at 10am PDT until September 25th.
Full details of the anniversary celebration for ArcheAge can be read on the game's website.
Our Thoughts
Kirby is the best boy and we will fight anyone who feels differently. Oh, also, congrats to the ArcheAge team for three years. Corgi.
Source: official site
Articles Related to ArcheAge
Gamescom 2017: ArcheAge 4.0 Gets a Release Window
ArcheAge Unleashes Erenor Eternal Expansion
ArcheAge Community Q&A Talks Future Content
Related:
Anniversary
,
ArcheAge
,
Event (In Game)
,
News
,
Sandbox MMO