The largest expansion to the sandbox MMO in a while, the ArcheAge Revelation launch, has hit several roadblocks on the NA side of things. According to a series of updates on the game's forums, the NA servers have been taken down through the night in order to resolve the issues.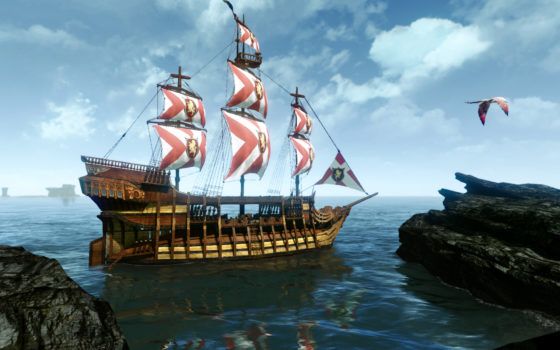 While the EU servers appear to have gone through Revelation's launch relatively unscathed, ArcheAge NA has not been so lucky, with lockdowns, restarts, and ultimately a closing of all NA servers to troubleshoot issues being documented in a rolling update thread.
According to the post, the NA servers will remain closed until approximately 12pm PST, though they may possibly open as early as 10am PST. Techs for the NA servers are currently working with XL Games in order to resolve the matter.
UPDATE 12:49pm EST: Trion Worlds CEO Scott Hartsman has offered up a statement regarding the current NA issues;
I understand the frustration, believe me. After six months of prep work and testing in every place we could, no one including our Archeage teams had expected to need to pull a 30 hour shift to try to get ArcheAge North America Live up and running.

I can promise you that it's not a matter of competence, if anything, quite the opposite. While it might be hard to believe, it's their competence that'll get it up and running.

ArcheAge North America is the largest ArcheAge install globally in the amount of data it needs to deal with. Larger than any of the non-Trion installs by a massive amount, larger than Archeage EU by quite a lot. The software as delivered to us was able to handle the volume of data the other regions, it handled the test data on PTS, and handled EU with a last minute scalability assist from our engineers.

Since then, our engineers have spent the last day and a half working tirelessly with XLGAME's to improve it even further such that it can properly deal with the amount of data in the NA live service in a way that gets you your game up and stable the way it needs to be.

As a regional publisher, this is way outside of what we should typically be doing. But as a developer of other games ourselves, it's always all hands on deck, whatever we can do to make things work and get people in and playing, for our partners' games too.

Our teams are as frustrated as you are here – especially those that worked so hard, fixing all of the learnings from the last releases, to make things go smoothly – And they're not stopping until it's up and running. Really appreciate the patience.
The devs have also stated that they will commence the NA restart at 10am PST, beginning with the Kraken server.
Our Thoughts
So basically it's like nearly every other major MMO launch in documented history. Though people are understandably upset as a result of higher stakes; land rights and buildable spaces are at a premium, and players don't want to risk missing out. Still, the fact that the ArcheAge team have been working overtime in order to resolve the matter should illustrate their dedication, and all that players can do is try to keep a level head and let the tech team work.
Your Thoughts
How has your experience with ArcheAge's Revelation been so far? Are you among the enraged, or will you simply ride the storm out? Share your thoughts below with us.
Source: official forums
Articles Related to ArcheAge
A Look at the ArcheAge Fresh Start
ArcheAge Revelation Update Bringing Huge Changes
Versus: Black Desert Online versus ArcheAge
Related:
ArcheAge
,
Launch
,
News
,
Revelation
,
Sandbox MMO
,
Servers