Ever since the announcement made at Blizzcon 2015, Heroes of the Storm players have been waiting for Blizzard to release the new game mode shown that at the time was called Arena Mode. However, the upcoming game mode for the MOBA, is Heroes Brawl, and in spite of being based on the Arena Mode announced at Blizzcon 2015, it's not exactly the same thing.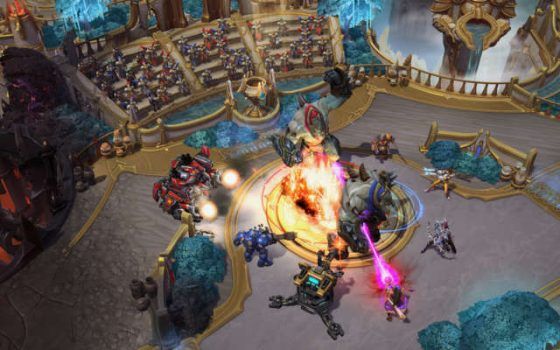 According to this Gamespot interview with lead battleground designer John DeShazer, the intention was to create very fast matches and the way they had designed the Arena Mode involved a number of design constraints that wouldn't allow for the type of experience ultimately sought.
The result of the renewed game mode, Heroes Brawl, is a weekly rotating system introducing new content along with a different brawl type. The interview further explains that the Arena Mode and its original design will be part of the Heroes Brawl rotation as one of the weekly types of matches, but the larger picture is overall quite different.
Much of this game mode will be preset, and matchmaking will also be faster. Matches can be expected to last anywhere between 4-10 minutes, though some can span over the average 20 minutes that a normal Heroes of the Storm match lasts. According to the interview, the team has a lot of content ready to go, triple what they had when the announcement was first made last year.
The incentives offered for participating in the weekly Heroes Brawl's three matches are pretty significant, as they include 1,000 gold and a unique portrait for each week's brawl. The aim is to make each week's brawl feel like a unique mini-event. The unique aspect goes even further as DeShazer stated that once a brawl is over, there is a chance it won't be brought back.
Heroes Brawl is launching on the week of October 17 and will also be available on the Heroes of the Storm PTR from October 10.
Our Thoughts:
A lot of how Heroes Brawl works is still unknown though the interview offered a few examples concerning some of the brawls coming up. It all looks like it's lined up to be a pretty crazy wild ride for players, so we're curious to see how it goes after this new mode is released.
Your Thoughts:
What's your opinion about Arena Mode being transformed into Heroes Brawl? Let us know in the comments below!
Source: official website, Gamespot
Related:
Blizzard Entertainment
,
Heroes of the Storm
,
MOBA
,
News