The Black Watchmen group is once more making an appearance in ARG form in the crowdfunded alternate reality title NITE Team 4. In addition to being inspired by The Secret World, the two games are merging together to offer TSW players a little something extra.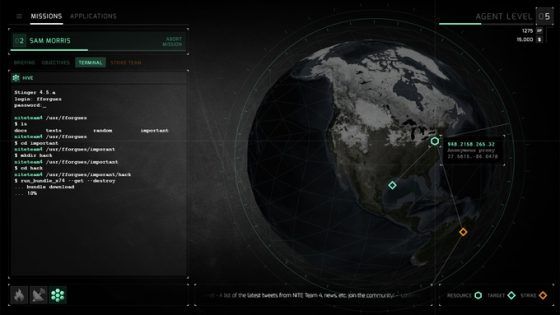 NITE Team 4 is described as a "story-driven military hacking simulation" which draws terminology from leaked NSA documents. The game has players attacking secure systems in order to coordinate strike teams, and will feature three phases of play in order to gather recon, hack systems and direct a ground squad to complete missions. Backers will also get to vote on the main plot of the game's story from one of three options.
In partnership with Funcom, NITE Team 4 is offering players of The Secret World special perks when they back the project, including a special cross-universe ARG mission, NITE Team 4 uniforms for their TSW characters and a Steam key for The Park. Additionally, all players of TSW will receive a NITE Team 4 military backpack item for free, whether they back the project or not.
NITE Team 4 is currently fully funded and looking towards stretch goals which include a cloud-computing AI support system to help players stuck on a mission. Information about the game's campaign can be read here, and other details about the Funcom partnership can be read here.
Our Thoughts
A lot of thought and work has gone in to NITE Team 4, and the ARG-like sensibilities of The Secret World mesh perfectly with the title. We're delighted that Alice & Smith have gotten the funding they require, and hope that players of both games have something new to look forward to.
Your Thoughts
Are you backing NITE Team 4? Will you be doing so in order to get the free TSW swag? Are ARGs not really your thing? Tell us below!
Sources: Kickstarter, official site
Articles Related to The Secret World
Versus: The Secret World vs. Star Wars: The Old Republic
5 Features We Would Like to See in The Secret World
The Hows and Whys of The Secret World Melee DPS
Related:
ARG
,
News
,
NITE Team 4
,
Promotion
,
The Secret World