Yes, that headline is correct. ARK v257 has laser sharks, giant bees, and a rather dangerous-looking volcano. There's also new hairstyles, new musical tracks, and a couple of other neat TEK items as well, so it's not all terrifying news. We're just a bit fixated, honestly. But for good reason. Because laser sharks and giant bees.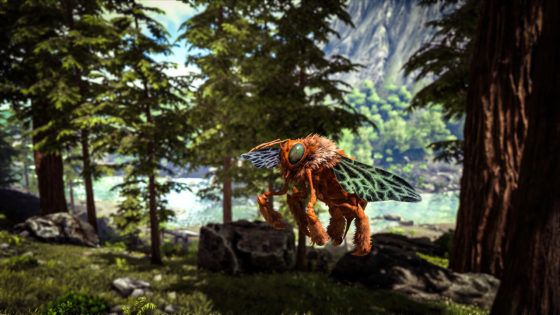 V257 offers up new TEK like the Tek Turret, a Cloning Chamber to make carbon copies of your favorite creatures, a new Tek Grenade that sticks on to your enemies, and a Tek Megalodon Saddle that will give you the always delightful laser shark. The volcano has also been redesigned to include a brand new TEK Cave.
There's more to this update than Tek, of course; new hairstyles, four new creatures, new Explorer's Notes, and a new "Ascension" progression system have also been included in the update. Patch notes can be found on the forums, and a trailer showing off what's new is below.
Our Thoughts
Beeeeeeeees! So many bees! So many huge bees that are as big as our heads get them awaaaayyy!!
Source: press release
Articles Related to ARK: Survival Evolved
The Next ARK PC Update Will Cover You in Lava
ARK: Survival Evolved PC Review
Top Builder Dinos for ARK Survivors
Related:
ARK: Survival Evolved
,
Console
,
News
,
Sandbox MMO