Even though ARK: Survival Evolved actually, legitimately released on Tuesday, August 8th, the devs have elected to celebrate the ARK third birthday by marking the time it entered early access for reasons that I'm not terribly clear on. Regardless, the game has offered a look back at where it came from and offered an enticing hint at what's to come.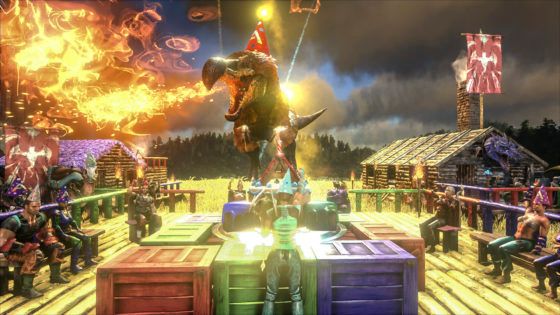 A post on the game's Steam page over the past weekend walks fans through the game's pre-history to this point, from Ragnarok to Aberration to the release of spinoff titles like ARK Park and PixARK. The devs also provided a little nod in appreciation for fan-created content and some of the game's mods.
As for what's next, the game's official page has a header with an ominous countdown and the words "Life Finds a Way". The Steam post promises "epic discoveries with new content and challenges" coming soon and teased some big news to be revealed at some point in the middle of this month.
In the meanwhile, a new Community Crunch dev blog post has outlined a variety of changes that are in the more near-term for ARK, including changes to structure decay rules, adjustments to the game's code of conduct, and the launch of Small Tribe Servers tomorrow. You can read up all the details here.
Our Thoughts
Seriously, why mark a birthday at the time of early access launch? Eh, whatever. We're more curious about what this countdown and big reveal is leading up to. One certainly assumes some direct tie-in with Jurassic Park considering the quote, but on the other hand maybe it's referencing dino life surviving some extinction-level event? We'll just have to wait and see…
Sources: Steam, official site
Articles Related to ARK: Survival Evolved
ARK: Survival Evolved Confirmed for Nintendo Switch
ARK: Survival Evolved Heads to Mobile
Minecraft Meets ARK: Survival Evolved in PixARK
Related:
Anniversary
,
Ark
,
ARK: Survival Evolved
,
MMO
,
News
,
Survival Sandbox