War Drum Studios and Studio Wildcard have locked down a final ARK: Survival Evolved mobile release date and, to be honest, it's a lot sooner than I personally expected. This coming Thursday, June 14th will see the dinosaur-loaded survival sandbox arrive to iOS and Android devices.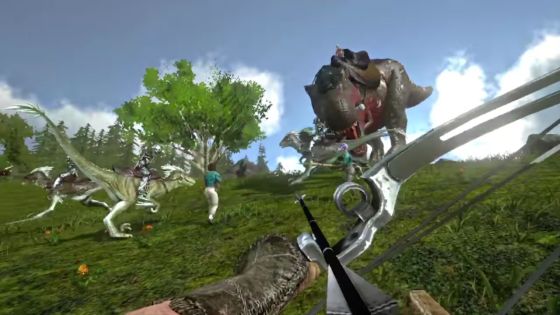 ARK: Survival Evolved will launch with over 80 different dinos to tame or avoid getting eaten by or trod upon. Gameplay offers the same mechanics as the full-on PC and console versions with crafting, gathering, building and exploration, all available solo or in online multiplayer with up to 60 people at once.
The mobile version will also introduce a new material known as Ancient Amber, which lets players build unique structures, resurrect a dead dino, and more. This new currency can be harvested from a variety of different sources, all of which are detailed in this blog post.
The mobile version of ARK: Survival Evolved will be arriving as a free-to-play title, but those who want to remove ads can purchase a Primal Pass subscription, which will also provide reserved server slots, free gifts and other benefits for $3.99 a month.
For those who are interested in finding out more about ARK: Survival Evolved on mobile, head here.
Our Thoughts
So first thing's first: we hope that the monetization of ARK Mobile will be fair, because nothing's worse than predatory, aggressive and voracious monetization, and mobile gaming seems to be the hottest of hotbeds when it comes to these practices. Beyond that, we hope fans of ARK: Survival Evolved enjoy the mobile edition.
Source: press release
Articles Related to ARK: Survival Evolved
ARK Celebrates its Third Early Access Birthday
ARK: Survival Evolved Confirmed for Nintendo Switch
Minecraft Meets ARK: Survival Evolved in PixARK
Related:
Ark
,
ARK: Survival Evolved
,
Launch Date
,
mobile gaming
,
News
,
Release Date
,
Sandbox MMO
,
Survival Sandbox