Nothing beats a video game full of dinosaurs in the highest possible resolution. That's perhaps the line of thinking behind the update which sees ARK Xbox One X compatibility in order to take advantage of the new console's hardware power.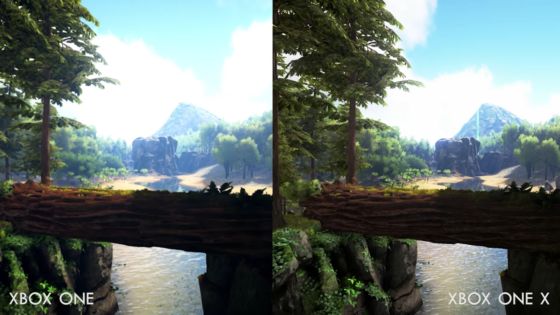 ARK's update for Xbox One X will offer players on the console two modes of play: a "Detail Mode" with 1440p resolution at 30FPS, or a "Medium Quality" mode with a 1080p resolution and 60FPS. Detail Mode touts features such as a extended draw distance, long-range shadows, and realistic weather effects through the TrueSky system.
The new console isn't just a visual upgrade either; players can now split up and go in completely different directions in local multiplayer split-screen mode, loading and streaming times for the game are improved, and Xbox One X servers can now host up to 70 players in a game.
ARK's compatibility with the new Xbox console is a free update that's now available. You can take a peek at the improved visuals in a side-by-side comparison between the One and the X in the video below.
Our Thoughts
While improved visuals are definitely going to be a welcome addition for many, some might balk at the framerate hit that might impose. Still, a lot of the other functions ARK has on Xbox One X are a noted improvement. Besides, ARK: Survival Evolved is already a pretty demanding game for PC.
Source: press release
Articles Related to ARK: Survival Evolved
ARK Survival Evolved Releases
Tests Reveal ARK: Survival Evolved on PC Has Stiff Requirements
ARK: Survival Evolved PC Review
Related:
ARK: Survival Evolved
,
MMO
,
News
,
Survival Sandbox
,
Update
,
Xbox One X