Studio Wildcard has just released a massive new update for ARK: Survival Evolved just in time for the holidays. In this update, the massive world of ARK has been transformed into a sparkling winter wonderland, complete with limited time holiday items, challenges, and environmental details. There are also Reindeer Costumes and even air-dropped presents from Santa Claus! Uh, excuse us; we mean Raptor Claus, of course.That's not all though, as the game is also 40% off its regular price (only $17.99 now) from now through 10 AM PST, Monday January 4th. Best grab your winter boots, as you'll be riding your dinosaur through the snow.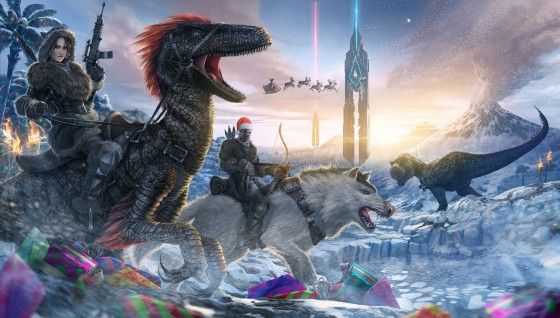 If you're worried about getting cold, we can reassure you that there's no need to be. With new Holiday Lights, a Decorative Tree, Wreaths, Wall-Stockings, Snowmen and Giftable Loot-Containing Presents, you're too busy with festive behavior to even feel the temperature drop! You might even see Raptor Claus, who darts across the night sky in his sleigh, air-dropping presents filled with high-end Loot Blueprints. Follow him around to stock up, as he also drops ARK Gift Codes! If you've been naughty and are only getting coal, there's a reward for you too, as gathering enough coal allows you to summon the elusive holiday-themed DodoRex to their bidding for a limited time.
Last but definitely not least, ARK will be hosting one last massive Survival of the Fittest battle to close out 2015. For charity this time, the event is titled "Survival of the Fittest Naughty or Nice" and pits 100 survivors vs 100 survivors against each other, including streamers and past tournament players. The winning Tribe, Naughty or Nice, will get to divvy up $10,000 to donate to a charity of their choosing. To get you even more into the festive mood, watch the Winter Wonderland video below.
Vote Here
Make sure you vote for ARK: Survival Evolved in the MMOGames Best of 2015 polls! ARK: Survival Evolved has been nominated for the following categories:

Best Beta/Early Access of 2015

Our Thoughts
Who in their right mind could've imagined a dinosaur on a sleigh giving out presents to survivors in ARK: Survival Evolved? It's like our naughtiest dreams have come true, and it looks absolutely fantastic. Can we have our own DodoRex for Christmas?!
Source: Press Release
Related:
ARK: Survival Evolved
,
News
,
Steam
,
Studio Wildcard
,
Survival
,
Update
,
Winter Event