The most recent addition to ARK: Survival Evolved after the launch of its Scorched Earth expansion is Update v247, which is entirely free on PC via Steam and adds various bits of new content for players to enjoy, including a massive new DLC map, two creatures, and Night Vision Goggles for stealthy raids.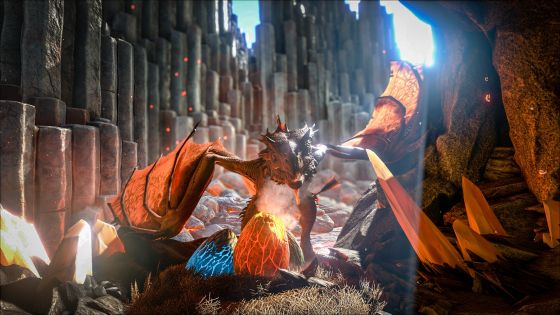 The Center fantasy map was was created by modder Ben Burkart and has a rich, hand-drawn Tolkien-esque aesthetic, complete with lighting effects, lava rivers, giant mountains, misty floating islands, and ancient underground ice caves. It was first released in May 2016 as part of the 'ARK Official Mods Program. Today, it is so expanded that it will double the in-game playable geography of the already available landscape.
As for the two new creatures, the Archaeopteryx is a small bird-like traveling companion that can be used to collect sap, or held overhead for players to "glide" over long distances when tamed. Meanwhile, the Tapejara is a mid-sized pterosaur with extra maneuverability, making that its rider and up to two additional passengers can shoot their weapons while in the air, all while being able to strafe or cling onto walls.
You can watch the short video introducing the newest additions to the ARK: Survival Evolved world below:
Our Thoughts:
The new DLC map sounds very interesting even for those of us who don't play ARK, as it seems to add an entire new level of exploration with a very particular aesthetic. Although we are not sure when this update will be released for the console version of the game, we hope it won't be long so that all players can enjoy the new perks and content.
Your Thoughts:
Did you have a look at the new DLC and explored The Center fantasy map? Let us know what you think about the most recent additions to the ARK universe in the comments below!
Source: press release
Related:
ARK: Survival Evolved
,
News
,
PC
,
Steam
,
Studio Wildcard
,
Survival
,
Update