Studio Wildcard is motivating the ARK: Survival Evolved and modding communities to put their creativity to the test in a new ARK modding competition! There are no boundaries to the modding, as you can build anything from an entirely new ARK Island to designing a new competitive gameplay mode. All Studio Wildcard is looking for are fans to submit their creative skills in one of three categories: 'Mods', 'Maps' and 'Total Conversions'. The 'Mods' category is for all extensions of current gameplay functionality, 'Maps' is for new ARK's to play on and 'Total Conversions' is for complete overhauls of the game which change the core functionality.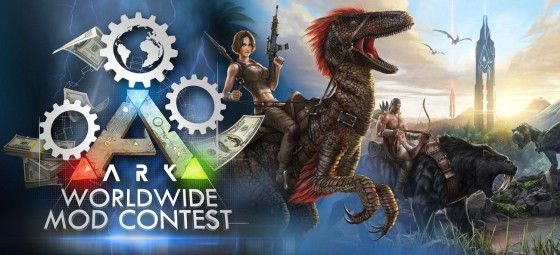 With over $60,000 USD in cash up for grabs, it's time you start creating the best mod ever or send in one of your best creations so far. You can submit your entries from January 14th till March 15th. On the 16th and 17th of March the top mods will be selected in each category, with a public voting round following from March 18th till April 1st. The winners of each category will be announced on the 15th of April.
In total, fifteen prizes will be awarded. There are 5 prizes to be won in each category:
1st Place: $10,000 in each category
2nd Place: $5,000 in each category
3rd Place: $3,000 in each category
4th Place: $2,000 in each category
5th Place: $1,000 in each category
Studio Wildcard will select 5 to 10 submissions they consider high quality in each category, which can then be voted on by the community. 40% of the judging score will be calculated by the community through a public vote. 60% of the judging score will be done by the ARK: Survival Evolved development team. The community voting will be done through the Survive the ARK forums.
Our Thoughts
It's great to hear that Studio Wildcard is giving its community the opportunity to share their creativity via this modding contest, and the fact that there's a massive prize pool attached to it isn't all too horrible either. We wish everyone participating the best of luck! May the modding greatness be with you.
Source: Press Release
Related:
ARK: Survival Evolved
,
Contest
,
Mods
,
News
,
Studio Wildcard
,
Survival