It never seemed like this day would come, but we finally have an ARK official release date. Yes, the in-development dinosaur survival sandbox is finally complete and is arriving to all platforms for a global launch.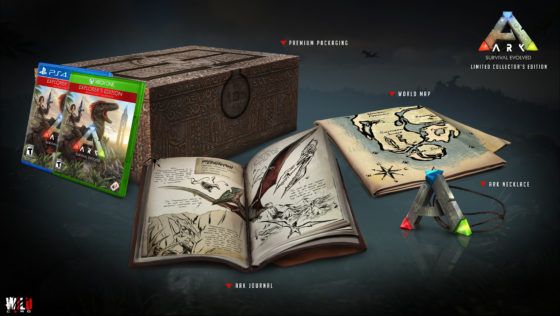 As one would perhaps expect, ARK comes with a Collector's Edition available for pre-order only that will offer up a leather-bound Explorer's Notebook with dossiers of every creature in the game, an ARK gems necklace, a cloth map, a poster of the dev team, and a soundtrack disc recorded by the London Philharmonic. There will also be an Explorer's Edition which will include the full game and a Season Pass, and a standard edition with every free update in the game priced at $99.99 and $59.99 respectively.
ARK is also adding a brand new Ragnarok map for the PC version, which comes by way of the previously announced ARK Sponsored Mods program. The first officially released mod for the game, Ragnarok is a 144 square kilometer space with original and modified ARK creatures, challenging new dungeons, an active volcano that spews unique resources, and a wealth of new biomes and resources to discover.
Ragnarok is a free update arriving today for PC and arriving to console in early July, while the complete game will launch worldwide on Tuesday, August 8th. You can check out information about Ragnarok here, find out about pre-ordering the full title here, and check out the launch trailer below.
Our Thoughts
ARK Survival Evolved has been something of a running example of early access practices gone wild, so we're most definitely glad to see that the game has finally reached a point where it's in a launchable state. That said, there's still worry that ARK's long early access period has soured people's taste for the game. Are you one of those done with ARK or are you excited by this official release?
Source: press release
Articles Related to ARK Survival Evolved
ARK Survival Evolved PC Review
Newest ARK PC Patch Adds Five Creatures and a Toilet
ARK Brings Laser Sharks and Giant Bees to Console
Related:
ARK: Survival Evolved
,
Console
,
Global Release
,
Launch Date
,
News
,
PC