Looks like the certification process for going gold was a bit of a bump in the road for ARK: Survival Evolved. Due to the process taking longer than expected, the ARK launch date has been pushed back by a few weeks, granting the devs additional time to prepare new content and other fixes.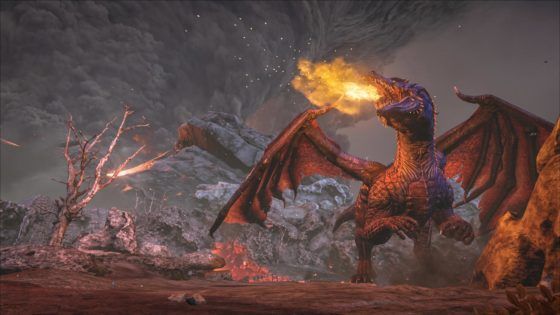 ARK will now see its full retail release on Tuesday, August 29th as a result of getting a gold master copy and retail certification. "It sucks, it wasn't what we had wanted, nor planned," reads the announcement. "We're deeply apologetic for those who were negatively affected by the delay."
So what will be happening over the next several weeks? Plenty, as it turns out. The Ragnarok free DLC will be expanded upon further, increasing the world size by approximately one quarter, with new biomes, engrams, a boss encounter, and "something secret" planned. The DLC will become available once the survival sandbox has officially launched.
The devs are also taking the opportunity to address numerous current issues with ARK. Specifically; PC performance tweaks are in the works, multiplayer boss fights will see difficulty scaled back away from the realm of "ridiculous", an issue that prevented baby-to-juvie creatures from eating from the right trough is getting fixed, and a fix to prevent people from burrowing under the map and raiding people is on the way. Additional technical fixes to help mitigate DDoS attacks and stabilize the servers are also being worked on.
Our Thoughts
While the delay is certainly unfortunate, we're glad to know that the devs aren't taking the additional time lightly. We certainly hope these planned adjustments will make for a more stable and enjoyable game once ARK finally releases in full.
Source: official site
Articles Related to ARK: Survival Evolved
ARK: Survival Evolved PC Review
ARK PC Patch Adds Five Creatures and a Toilet
The MMO Alpha and Beta List: July 28, 2017
Related:
ARK: Survival Evolved
,
Delay
,
Launch Date
,
News
,
Sandbox MMO