ARK: Survival Evolved Scorched Earth is an entirely new desert-themed ARK filled with new biomes, creatures, gameplay mechanics, and challenges that will push players' survival skills to the limit.
Stranded naked, dehydrated and starving on a fiery, drought-ridden desert world, players must immediately seek water, hunt for food, harvest new flora, craft new items, and build shelter from the extreme heat. Players who survive the harsh arid conditions can travel back and forth from the Scorched Earth map to the ARK: Survival Evolved main game, taking with them newly collected tools, weapons, and their new tamed creatures to impress their friends and dazzle their combatants.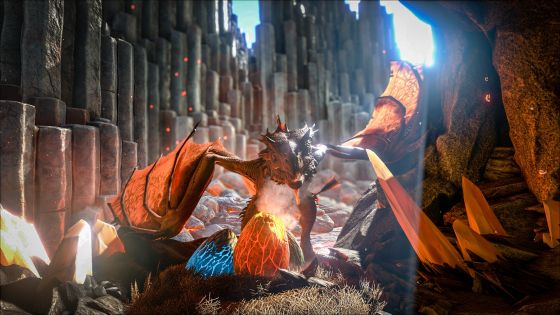 The expansion centers around the new challenge of surviving in a desert environment depleted of water resources and different from what players experienced before, along with potential hazards of electrical storms, blinding sand storms and heat strokes.
The completely new map is composed of seven unique, desert themed biomes: dunes, high desert, mountains, canyons, badlands, oasis and the ever-dangerous dragon trench and their respective ecosystems and dangers. It also features new creatures to tame or confront, such as Wyverns, Death Worms and the deadliest boss of the desert, the Manticore.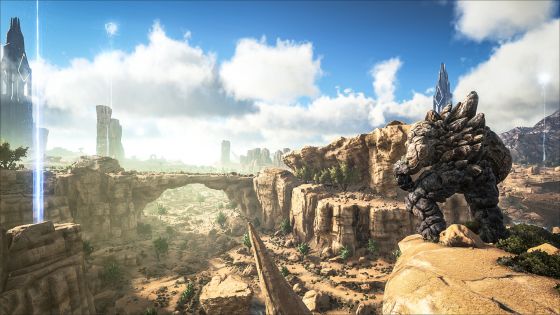 In addition to the launch of the Scorched Earth expansion, Studio Wildcard is also launching today for Xbox One the content-rich update that PC players received last month, as well as an HD resolution upgrade to fully support 720p gameplay with 1080p UI's.
The player-created mod entitled 'Primitive+' which is now an official part of ARK: Survival Evolved on Xbox One features more than 100 new items, weapons, structures, and survival mechanics oriented towards "primitive" style living, effectively doubling the amount of content within ARK. In addition, as part of the v739 update, Studio Wildcard also has brought to life two new creatures, the versatile Pelagornis and the pack-minded Allosaurus, along with a new Fishing Rod and fishing mechanic, plus other gameplay features.
You can watch the launch trailer for the ARK: Survival Evolved Scorched Earth expansion below:
The new expansion pack, ARK: Scorched Earth, retails for $19.99 on Steam PC, Mac, Linux, SteamOS and Xbox One. To play the expansion, players already must own ARK: Survival Evolved, which is on sale this week at 40% off the retail price for both Steam and Xbox One.
Our Thoughts:
The newest addition to the Ark universe looks amazing and even though it wasn't synced with the scorching heat of this summer it will surely satisfy everyone's need to survive, explore and conquer new lands. We're also happy for our fellow Xbox One ARK players receiving all the updates that PC players already had and hope to maybe see these updates arrive closer to one another in the future.
Your Thoughts:
Are you eager to explore the new desert area available in the Scorched Earth expansion and conquer new challenges?  Let us know in the comments below!
Source: press release
Related:
ARK: Survival Evolved
,
Expansion
,
News
,
Studio Wildcard