Good news for Xbox One players who wish to indulge themselves in ARK: Survival Evolved! Studio Wildcard has announced that the Xbox One version of the popular survival game will support local, two-player split-screen! Unfortunately online split-screen isn't part of the developer's plans, but you still get to play with your friends without both having the game.
ARK: Survival Evolved will launch on the console today as part of the Game Preview program, but the split-screen feature won't be part of the game just yet. The feature will be released sometime early in 2016 and will be exclusive to the Xbox One version. At least for the time being after its release, Studio Wildcard states.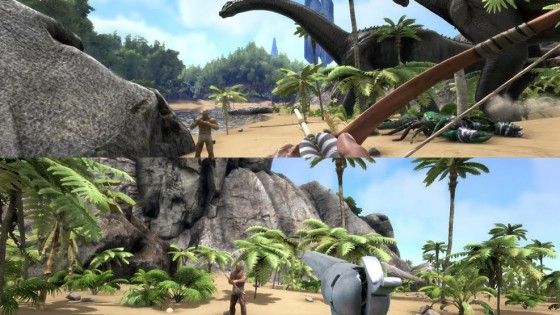 "Many developers are abandoning split-screen local play, but we couldn't stomach that for Ark!" Studio Wildcard creative director and co-founder Jesse Rapczak told GameSpot. "Friends and families can look forward to working together to survive the environment, tame its inhabitants and unravel the mysteries of the island–all from the same couch."
The local split-screen feature is up and running internally, and it looks great from what we can see on screenshots. The Xbox One version will support another unique feature though, and this one doesn't require you to wait until 2016 to try it out. On the console version of ARK: Survival Evolved, players can host their own 50-plus player server. Of course, a second Xbox One is required for this, but hosting a server would normally require an expensive PC server and a lot of management headaches, and now you can do it yourself without all that trouble!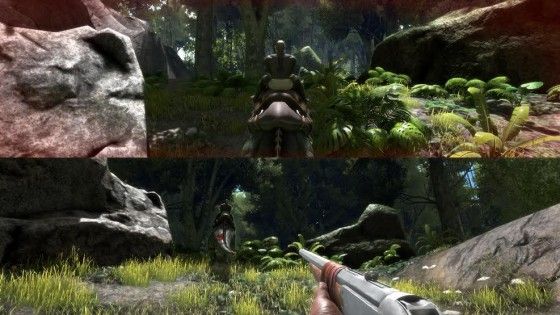 You can purchase Ark's Xbox One version for $35. The fully finished game is set to arrive sometime in Summer of 2016 for a higher price, so you might want to buy the Game Preview version, as you won't have to pay any extra when the completed game goes live. A PlayStation 4 version of Ark is also in the works and will be released in the Summer of 2016 as well.
Our Thoughts
Split-screen action is one of the reasons why consoles grew popular and it has a certain sense of nostalgia to it. 343 Industries received major backlash from its community when the company confirmed that Halo 5 wouldn't include local split-screen play, so we're happy that ARK: Survival Evolved isn't making the same mistake, as it's kind of a trademark for consoles in general.
Source: Gamespot
Related:
ARK: Survival Evolved
,
Console
,
News
,
Studio Wildcard
,
Survival
,
Xbox One