If you love dinosaurs with freaking laser beams attached to their heads, then you've been eager to know the ARK TEK Tier release date. That date has now been confirmed as ARK: Survival Evolved is set to introduce what is described as its biggest patch ever.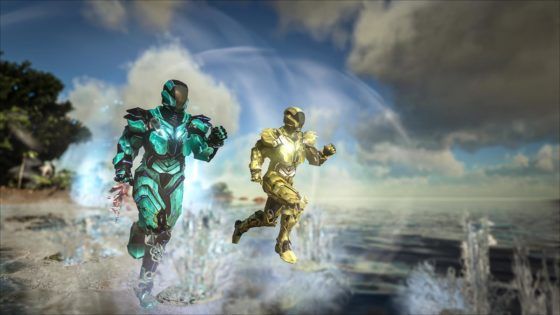 Just in case it's been a while since the last time you heard about the TEK Tier, patch 254 will introduce a variety of new high-tech end-game crafting items, including power armor that provides a variety of new abilities, sci-fi building materials, and various high-tech weapons for players and the T-Rex.
In addition to the new tech, other adjustments are arriving to ARK. Players will now be able to carry a lance and a shield while on dino-back, which will make jousting possible; sheep will be introduced and can be sheared for wool; boss fights will now have three new difficulties as well as new drops for each challenge level; four new dinosarus will be added; and hair and facial hair will grow in real-time, and can be cut and styled.
According to creative director Jesse Rapczak, update 254 marks "the patch to kick off the final stretch" as the game nears closer to full release on PC. The PS4 and Xbox One versions of ARK are still in-development.
The ARK TEK Tier lands on PC on January 30th.
Our Thoughts
What may have started off as a hardcore survival sandbox game is swiftly turning in to a dinosaur playground, and we could not be more thrilled. It's pretty impossible to not be moved in some way by a T-Rex sporting head-mounted plasma cannons.
Your Thoughts
Are you looking forward to the new ARK TEK Tier, or do you find the whole update off-putting and immersion-breaking? Let us know in the comments.
Source: Gamespot via official site
Articles Related to ARK: Survival Evolved
Free Survival Evolved Update Adding ARK TEK Tier Gear
ARK: Survival Evolved Mounted Weapon Use Coming in v248
ARK: Survival Evolved Scorched Earth Expansion and Xbox One Content Update Now Live
Related:
ARK: Survival Evolved
,
News
,
Sandbox MMO
,
Update