Now allow me to explain when I write "robo T-Rex". I don't mean the T-Rex with some Tek armor on it. I mean, like, a literal full-sized T-Rex that is also a robot. That you can have. This is one of a number of rewards awaiting ARK: Survival Evolved players in the ARKaeology event.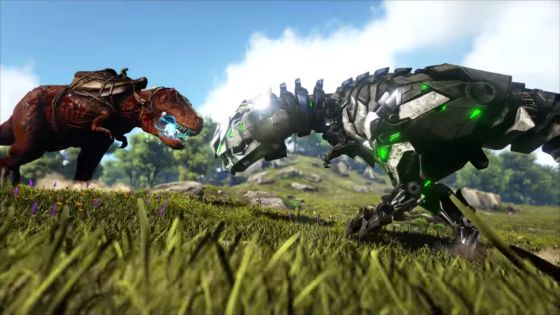 From now until Sunday, July 15th, players of ARK can go on expeditions around the game world to locate and dig up dinosaur bones. These bones can then be brought to a special cooking pot to cook up some unique items, including the popular skeletal skins from the Fear Evolved event and costumes for players and dinos alike.
Of course, the thing I'm personally invested in is the event's addition of the Tek Rex. These titanic robotic thunder lizards are available on Arks where normal Rexes are found and can be tamed and leveled up just like their more organic brethren, though they can achieve higher levels than their boring old meatbag counterparts.
Details about this limited-time event can be read here and a trailer for the event is below.
Our Thoughts
Sorry for focusing on the robotic T-Rex, but I couldn't help it. My inner 10-year-old was a bit too excited. On point, we hope that players of ARK: Survival Evolved enjoy their own robotic rexes or whatever else they go for during this event.
Source: press release
Articles Related to ARK: Survival Evolved
ARK Celebrates its Third Early Access Birthday
ARK: Survival Evolved Arrives to Mobile
ARK: Survival Evolved Confirmed for Nintendo Switch
Related:
Ark
,
ARK: Survival Evolved
,
Event (In Game)
,
News
,
Survival Sandbox