Obsidian Entertainment took some time today to talk about the crews and commanders feature in their upcoming tank based MMO, Armored Warfare. In the lengthy blog post, the team talked about the crews and commanders in great detail. Some of the highlights from the statement are listed below.
each crew can only be used in a specific vehicle and cannot be transferred to others. Tank crews will have a customized set of skills and levels that can be increased through experience in battle. 
Players can choose skills for their crew based on their style of play and hardware configuration. Crew skills must be selected carefully and while they cannot change the efficiency of basic tank characteristics, some skills will perform better than others for different vehicles. If the skills are chosen correctly vehicles will instead become easier to operate, reload more rapidly or shoot more accurately. 
Crew skills are not a massive factor for the hardware but they do play an important role on the battlefield. For example, the difference between a beginner level crew and a level 30 crew (halfway to the maximum level) is considerable.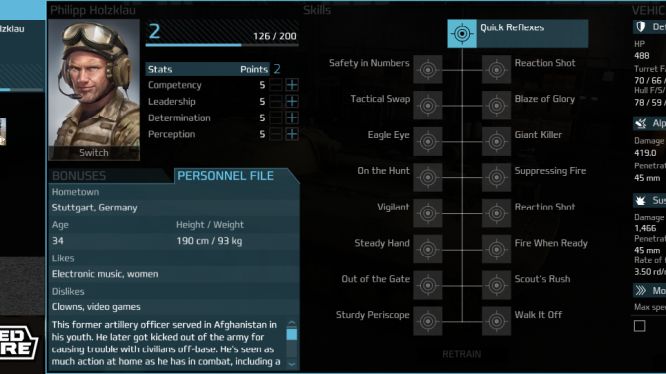 Commanders are a separate fighting unit who form part of the tank crew and act as a key element of the team. In contrast to regular crew members the commander can switch from tank to tank and because of this they have their own unique development system.
Players will improve a commander's characteristics independently. Commanders will improve their level as their battle experience increases and with each level they gain a certain number of points can be used to improve their different characteristics. As higher levels are reached they will be able to access to new skills to learn. Each time player reach a new level they can choose one of two skills and in this way they can create a commander with a unique set of improvements.
Armored Warfare is an action tank based MMO developed by Obsidian Entertainment and published by My.com. No release date has been announced as of yet and this title is currently in closed beta. For more information on Armored Warfare please visit the official site.
Related:
Armored Warfare
,
Beta
,
MMO
,
News
,
Obsidian Entertainment