Exploration, zombies, and female centaurs are the name of the game in the latest milestone video from ArtCraft, looking at all the shiny new additions to Crowfall Pre-Alpha 5.5, with the focus being on making world exploration more exciting and rewarding.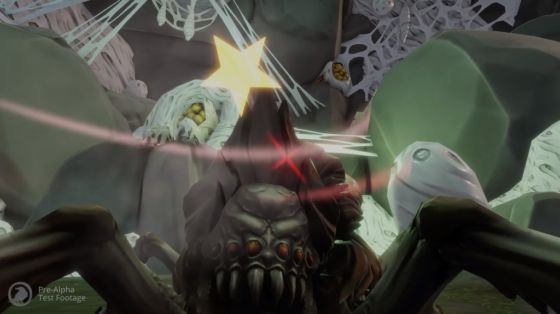 With the newest Pre-Alpha update, the Tyranny campaign map is gone, replaced by a new map called Wrath which brings in a cacophony of new features. Like what? Well, Adventure Zones are here! There are areas full of spiders, zombies, and minibosses which you will need to take on with a party of players.
The good news is that you can now play as female Centaurs, so if you like your ladies half horse well, who are we to judge?
There is also a new death and recovery system in place that will see you at first knocked unconscious. From here you can be resurrected by other players of the appropriate class, or receive a killing blow from an enemy. You will find yourself sent back to the temple where you will receive a death penalty, or alternatively, you can fly back to your corpse to avoid this. It sounds like a bit of a hybrid between Guild Wars 2's death mechanic and the more traditional corpse run.
Over in your player kingdom, you can now make use of the vendor system. Just plug in your chosen vendors and off you go. These vendors, notably, are player-controlled and other people can buy from them and you collect the gold. It will definitely be interesting to see how this plays out!
Our Thoughts
It's great to see how Crowfall is fleshing out. Of course, these Adventure Zones will have PvP so they aren't entirely PvE, but it's super neat to see a world developing, even if the maps aren't permanent. The death mechanics and player-controlled vendors are particularly interesting. It's nice to know that there are options to avoid penalties and corpse runs, but also a risk involved too. And seeing the beginnings of a player economy in such an interesting way is fantastic! This is the kind of vendor system I've wanted to see for a while, and only really The Elder Scrolls Online has come close in more recent MMOs.
Source: Official Site
Related Articles
Crowfall is Opening a Guild Showcase
Crypts are Crowfall's Answer to Alts
MMOGames' 2018 Predictions for Online Gaming
Crowfall Locks Down $6M in Additional Investment
Related:
Alpha
,
ArtCraft Entertainment
,
Crowfall
,
MMO
,
News
,
Video