A new Ashes of Creation cinematic trailer built from the in-game engine has gone live, introducing a new stealth class and some stealth-focused gameplay. The cinematic, according to the press release, showcases what the beginning stages of a larger siege will feel like when the MMO releases.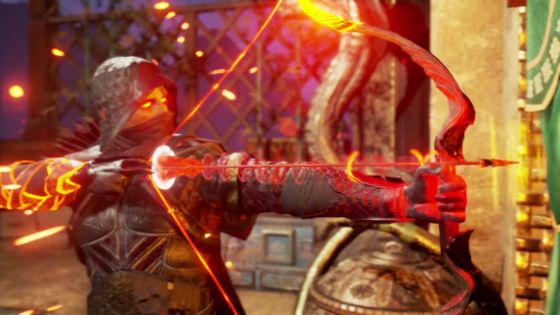 Titled "The Art of War", the trailer introduces the Predator class, a Rogue/Ranger hybrid capable of disappearing in plain sight and firing off several potent arrow attacks. The trailer follows the new class as he infiltrates the walls of a Metropolis, steals an important relic, and signals for the beginning of a larger assault.
According to the pinned comment on the trailer, the pre-alpha footage, while presentable, is still in the process of further development. "Pre-Alpha footage means you will see places that need more work, including our animations, our fx, our models etc," reads the comment. "We are so grateful to have you with us on this journey to create Ashes of Creation and appreciate your involvement in our development."
As of this writing, Ashes of Creation has raked in nearly $1.7M in funding on its Kickstarter page along with 9,500 individual backers. With the new backer total, a unique armor set has been unlocked for all supporters of the project. A new backer milestone reward was introduced in the most recent update; an underwater mount known as a Tidesnapper.
You can watch the new cinematic trailer below.
Our Thoughts
For pre-alpha footage, Ashes of Creation is most certainly looking like a stunner of an MMO in the visual department. Naturally, a lot of the gameplay being shown off is staged for the sake of cinematics, but we are certainly very curious about how many of the abilities and moves that were shown will make their way into the game proper. Let the rampant speculation commence!
Sources: press release, Kickstarter
Articles Related to Ashes of Creation
New Ashes of Creation Stretch Goals Revealed
Interview: Ashes of Creation on Building Their Virtual World
Walk the City Streets of the Ashes of Creation Metropolis
Related:
Ashes of Creation
,
News
,
Pre-Alpha
,
Sandbox MMO
,
Trailer