Ahh, the humble tavern. A launchpad for most adventures in RPG gaming. A base of operations. A location where ERP happens. The Ashes of Creation tavern is looking to become all that and more, as a new blog post illustrates the tangible in-game benefits these locations offer players of the upcoming MMO.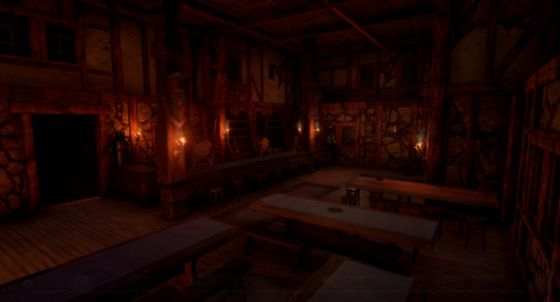 From the very get-go, taverns in Ashes of Creation will be a place where players can get rested XP as well as consumables that bestow their own unique benefits that can't be found elsewhere. Entering a tavern will also put players into its own dedicated chat channels, both in text and VoIP form.
Taverns will also let players map out their adventure quite literally using a Battle Map system, letting formed parties look over blueprints of a node and strategize an attack plan. This feature will be specific to taverns with higher levels or larger rooms, however. Tavern owners will also be able to rent out different rooms for different purposes such as sleeping, parlor games, and the aforementioned Battle Map locations.
All said, taverns are meant to be a temporary destination for players, so there will be features that players can take advantage of on a more brief basis. Things like bulletin boards for quests or overheard gossip about nearby locales are mentioned as examples.
Our Thoughts
Not only does the idea of making a tavern a central hub sound great from an immersion and gameplay standpoint, we love the idea of players owning and running a tavern of repute (or ill repute) as well. Everything about Ashes of Creation's tavern system – at least on paper – sounds excellent and we hope it can all be implemented.
Source: official site
Articles Related to Ashes of Creation
Ashes of Creation Video Explains Gameplay and Dates "Alpha Zero"
PAX West: Hands-On Ashes of Creation
Ashes of Creation Interview with Creative Director Steven Sharif
Related:
Ashes of Creation
,
Dev Blog
,
News
,
Sandbox MMO