The Firepower roster has gotten a little more sneaky and a lot more dangerous with the reveal of the new freelancer Kaigin. Atlas Reactor's Warpstalker brings hit-and-run and cybernetic ninja fun to the game's selection of characters.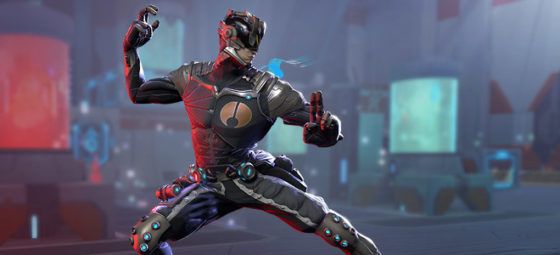 Believed to have been created from the same program that spawned the Freelancer Asuna, Kaigin is a stealthy and swift-moving character that is capable of short-range warping. Despite being completely blinded as a result of his nanite infusion, Kaigin is still more than able to hold his own, merging his new abilities with his skilled use of daggers and shuriken.
Kaigin's gameplay is fast-moving and hard-hitting, with many of his abilities able to apply during the Dash phase and allow him to additionally move during the Move phase after an attack. His skills allow him to Void Mark targets, leaving them susceptible to more damage from his next attack for one turn. Kaigin can also either focus on a single target or spread his damage out in AoEs. Despite all of his melee power, Kaigin has a very small health pool, and can be taken out of the fight with sufficient pressure and skilled blocks of his dashing.
Kaigin is available to play now, and detailed information about Kaigin's background and skills can be seen here.
Our Thought
Kaigin's arrival means that players are going to have to keep their head on a swivel and probably consider applying Reveal mods in order to counteract the angles this new attacker can bring. He could be an excellent harasser, drawing enemy teams to take him down and opening up avenues for the rest of the team to polish off their foes, or as a quick-hitting accompaniment to a Frontline character. Either way, we're eager to see what his arrival means for matches in Atlas Reactor!
Your Thoughts
How do you feel about Kaigin? Is this a character style you're looking forward to, or are you focused on one of the other Freelancers instead? Share your thoughts below in the comments.
Source: official site
Articles Related to Atlas Reactor
Trion and ESL Create Official Atlas Reactor eSports Event
Atlas Reactor Review
Atlas Reactor – Prep Phase
Related:
Atlas Reactor
,
News
,
PvP
,
Reveal