The Archangel of hope has entered the Nexus and becomes the latest support character for Heroes of the Storm. Currently available for 15,000 gold, Auriel offers a high-risk, high-reward style of gameplay.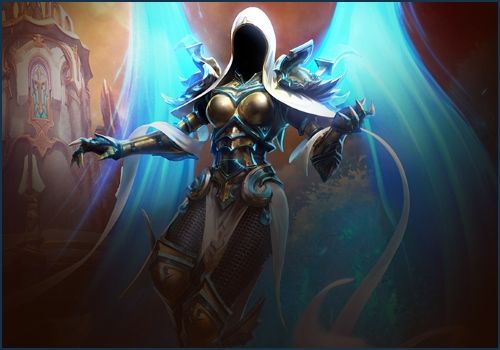 It's been quite a while since the last support character was released for Heroes of the Storm, which was Lt. Morales back in October 2015. With consecutive assassins and specialists being released, the community had made it clear that a new healer was needed.
Instead of just adding another hero with a basic kit of heal, utility, and damage abilities, Auriel has an entirely new mechanic. Auriel's abilities are free to cast with the exception of her heal: Ray of Hope.
Auriel casts Bestow Hope (her passive) on an allied hero and the damage they do to enemies is stored as Energy. When Auriel casts Ray of Hope, that Energy is converted into healing power is a moderate area-of-effect. Furthermore, she can also resurrect allies from the dead and fly to any location on the map, depending on which talents she chooses.
This means that Auriel's healing effectiveness is based on how well the rest of her team is playing. A team that puts out a lot of damage will allow her to heal for a considerable amount more than one that doesn't. Bestow Hope works best on heroes that are going to be in the middle of a fight, such as brawlers or tanks.
In addition to Auriel, Heroes of the Storm also has a few new bundles available and multiple characters were rebalanced.
Our Thoughts:
The addition of a new support hero can have a drastically larger effect than another assassin or warrior. Auriel has the potential to make entirely new team compositions available, and we can't wait to see what the community does with her.
Your Thoughts:
What do you think about the Archangel of hope? Will Auriel be a day 1 purchase for you?
Source: Battle.net
Related Articles
Heroes of the Storm's Auriel Abilities Detailed
Being the Lich King – Heroes of the Storm Arthas Guide
ESL Hosting Heroes of the Storm European Regional at Gamescom
Related:
Blizzard Entertainment
,
Heroes of the Storm
,
MOBA
,
News