At this point in your current World of Warcraft life, you should be at level cap and ready for what's next. Well, for everyone in the NA and EU servers alike, that time is now as a number of Battle for Azeroth end game activities are going live or very nearly online.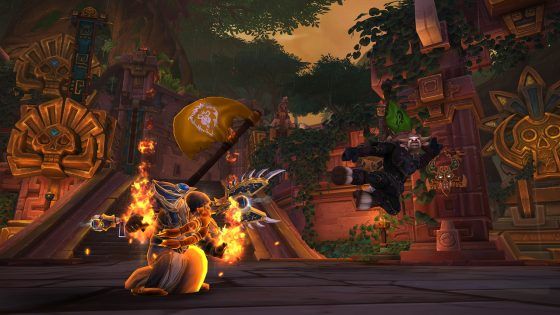 The Uldir raid has gone online in both Normal and Heroic flavors, where eight different bosses await to challenge players. Additional wings and LFR updates are also on tap, as we've reported before. World Bosses are also now a thing in Zandalar and Kul Tiras, with a total of six huge foes now stomping about those areas.
Mythic Keystones are also now online, kicking off its very first season. Seasons are the latest wrinkle to Keystones, which will bring a change to the third affix every week. The first season brings the new Infected affix, which grants several dungeon foes a corrupting power from the blood god G'huun. This affix will be on Keystones that are level 10 and higher.
For those who like themselves some PvP, rated season 1 is almost en route, offering two new arenas in Hook Point and The Mugambala. The PvP season will also offer a variety of rewards accessible via cashing in Conquest points and weekly PvP chests.
Finally, the first Warfront is available as both Horde and Alliance will battle to overrun or defend Stromgarde respectively. The devs have outlined a post explaining all of the Warfront mechanics and rewards, while everything else end game-related has been detailed here.
Our Thoughts
There. Now you all have a little something to occupy yourselves for a little while. In all honesty, though, it sounds like the next several weeks will be very active for WoW players at the top end, so we hope everyone has a good time.
Source: press release
Related:
Battle for Azeroth
,
MMO
,
MMORPG
,
News
,
Update
,
World of Warcraft
,
WoW