In news that is probably not a terribly big surprise to competitive online gaming fans, it was announced on Friday that Battleborn development will cease and the game itself will enter maintenance mode after the planned Fall Update.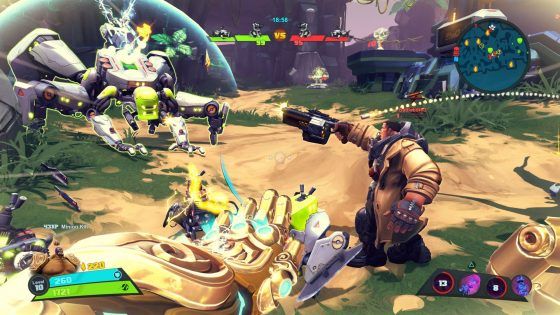 Battleborn's creative director Randy Varnell released a statement to the game's forums detailing the news, including the team's intentions to still put forth the Fall Update and keep the servers online "for the forseeable future".
According to Varnell, many of the devs at Gearbox – himself included – are shifting development focus to an unannounced title. Specifics on what this title will be were not provided in the announcement.
"I've been working on Battleborn nearly exclusively since 2012, and in some ways, that work stretches back to 2009 for me. It's been a long labor of love with many of my good friends at Gearbox, and I'm proud to have shared that journey with you, our community. Your spirit and loyalty have been a constant inspiration to the team at Gearbox."
Players are being offered a free SHiFT code for Deande's "Intelligence" skin in the meantime. Details for the Fall Update will be posted on the game's forums.
Our Thoughts
We could break this down any number of ways, but ultimately it's sad to see a game like Battleborn – which had fun co-op narrative gameplay, in this writer's opinion – go into maintenance mode. On the other hand, that's also what happens when you try to take on the 1,000 lb. gorilla that is Blizzard Marketing.
Source: official forums
Articles Related to Battleborn
Battleborn Free-to-Play Rumors Denied, Free Trial Offered Instead
Battleborn Player Count Begins to Flatline
Comparing Battleborn and Overwatch for MMO Players
Related:
Battleborn
,
FPS
,
Maintenance Mode
,
MOBA
,
News